Trump Settles DC Hotel Eatery Lawsuit With Chef Jose Andres
By
Suit one of two arising from Trump campaign kickoff comments

Jose Andres canceled restaurant plans after Mexican remarks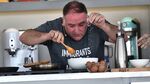 President Donald Trump has settled yet another lawsuit, this time with celebrity chef Jose Andres over a scrapped restaurant at Trump's Washington hotel.
The suit was one of two Trump filed in 2015 against restaurateurs who abandoned plans to establish eateries in the 263-room Trump International Hotel. Andres and chef Geoffrey Zakarian both withdrew after Trump called Mexicans "rapists" when he kicked off his presidential campaign. The deportation of undocumented immigrants and construction of a U.S.-Mexico border wall were centerpieces of Trump's presidential campaign.
Peace was declared Friday ahead of a May 23 hearing in Andres's case at Washington D.C.'s Superior Court. Trump had sued Andres for breach of contract in July 2015 seeking $10 million in damages. Andres counterclaimed for at least $8 million, money he said was spent on developing his restaurant location at the hotel before being compelled to cancel. Terms of the settlement are confidential, according to the statement.
The president answered questions under oath in the case in January, about two weeks before his inauguration. That month, he also handed control of his umbrella Trump Organization to his sons, Donald Trump Jr. and Eric Trump.
"I am glad that we are able to put this matter behind us and move forward as friends," Donald Trump Jr. said in a joint statement released Friday by the Trump Organization and Andres' company, ThinkFoodGroup.
'Working Together'
Andres, in the same statement, said he too was pleased with the resolution and left the door open to "the prospects of working together with the Trump Organization on a variety of programs" to benefit the D.C. community.
The deal follows Trump's $25 million settlement in November over his defunct Trump University. Former students are poised to recoup 80 cents for every dollar spent on real-estate seminars they claimed were based on false promises. In December, lawyers for the Trump International Hotel Las Vegas told a U.S. appeals court that it resolved issues that led to a National Labor Relations board determination it had violated federal law by refusing to bargain with a union.
The Trump DC hotel held its grand opening in October. Last month it was sued by a local wine bar and restaurant claiming to be the victim of unfair competition by virtue of the president's relationship to the establishment.
Trump's lawsuit against Zakarian is still pending in the same court as Andres' case before a different judge. In January, both sides said talks were at an "impasse." Trump is seeking about $14 million in damages in that case. A hearing is scheduled for May 30.
The Zakarian case is Trump Old Post Office LLC v. C-Z National LLC, 2015 CA 5890 B, District of Columbia Superior Court (Washington). The Andres case is Trump Old Post Office v. Topo Atrio LLC, 2015 CA 6624 B, District of Columbia Superior Court (Washington).

Before it's here, it's on the Bloomberg Terminal.
LEARN MORE