Trump Names Hassett to Head Council of Economic Advisers
By
AEI tax expert has studied policy effects on behavior

Hassett warned in 2010 against China bashing and trade war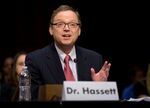 President Donald Trump will nominate Kevin Hassett, a tax expert and a fixture of conservative economic circles for two decades, to be chairman of the Council of Economic Advisers.
The White House announced the selection of Hassett, a Ph.D. economist whose research has mainly focused on tax policy, in an emailed statement on Friday. The position is subject to Senate confirmation.
Hassett may be a voice for more traditional Republican economic positions in an administration with a president and various officials who are at odds with recent party orthodoxy. For example, in 2010 Hassett cautioned against China bashing because it would risk a trade war like the one that "put the world economy into a death spiral in the 1930s." That contrasts with Peter Navarro, head of the National Trade Council, who's known for work such as a book and documentary called "Death by China."
The CEA makes recommendations to the president on economic matters and briefs him on data, such as the Labor Department's monthly employment report. Trump hasn't yet named the two other members of the council, who also require Senate approval.
Hassett's career has spanned think tanks, politics, government and academia. Since stints in the 1990s as an economist at the Federal Reserve Board of Governors and a Columbia University professor, he's held various positions with the conservative-leaning American Enterprise Institute in Washington starting in 1997, currently as director of research for domestic policy.
Campaign Adviser
Over the past two decades, Hassett served as an economic adviser for Senator John McCain's 2000 and 2008 presidential runs, President George W. Bush's successful re-election bid in 2004, and Mitt Romney's campaign in 2012.
Hassett may be more popularly known as co-author, with James K. Glassman, of the 1999 book "Dow 36,000," which predicted the Dow Jones Industrial Average would rise to 36,000 by 2005. It closed at a record 21,115.55 on March 1 of this year.
Hassett's most recent book, "Rethinking Competitiveness," was co-authored with AEI's Matt Jensen and Glenn Hubbard, a former CEA chairman under Bush.
Hassett was a Bloomberg News columnist from 2005 to 2011. His pieces took positions including advocating for corporate tax cuts as a job-boosting policy; pleading for bipartisan work on addressing entitlements; arguing that minimum-wage increases are harmful economically; and saying that "out-of-control government regulation started the mess" of the housing crisis.
Trump Column
But for Trump, Hassett's most important column may have been one published in February 2011, where he discussed the billionaire developer's chances if he ran for president.
While Trump's past actions and positions "may collectively provide the biggest handicap for a major candidate in the history of presidential politics," the businessman carried several major advantages, including instant name recognition and a "magnetic leadership quality," Hassett wrote.
"It would be wrong to dismiss him out of hand as many political insiders have," Hassett wrote.
Before it's here, it's on the Bloomberg Terminal.
LEARN MORE