The One
This Is the Best Trench Coat for Men
While brands such as Burberry and Aquascutum may lay claim to heritage, a newer brand has the winning formula.
By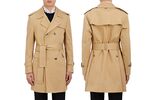 In "The One," we examine an object of luxury, explore its backstory, and select the best in its category to recommend. 
THE ITEM 
The trench coat began its life in the 19th century as outerwear for British military officers, then attained classic status and earned its catchy name in World War I. It is matter of debate whether Aquascutum (which developed a waterproof wool in the 1850s) or Burberry (which invented gabardine in 1879) first devised the garment. The debate will never be settled because the only people possibly willing to engage in it are elderly history buffs preoccupied with writing privately published histories of the Boer War.
Over the years, the trench has been modified, deconstructed, updated, re-proportioned, and enlisted in postmodern art projects, as with a $1,970 Marni coat currently in stores, waiting to be purchased by people who want a second set of belt loops at their shoulder blades. 

THE THEORY
Much of the military-inspired gear adopted as contemporary streetwear (the ubiquitous M-65, the omnipresent bomber) works as well as camouflage for blending in on city streets. A man's trench, however, has a way of standing out. Already inherently theatrical, it's a scene-stealer, largely on account of its showy paraphernalia: the epaulets, the storm patch, the sleeve loop, and somewhat problematically, the belt. 
At best, the belt presents trench-wearing men with a regular exercise in creative problem-solving. There's a whole other article to be written about the many styles of knotting unbuckled ones behind the back—my compliments to the guy I recently saw entering 500 Park Avenue with the belt doubled through the center-rear loop and both its ends tucked in one pocket. At worst, the belt is a nuisance, yet the coat is naked without it. That is because the trench is right on the edge of being a costume.

This is existential outerwear—a grand robe for film noir detectives and French novelists. A beautiful trench-like object from Japanese brand Coherence ($1,750) was inspired by novelist Albert Camus. They call it "Al." I am not positive I would call this a trench. After all, it has no epaulets. The line must be drawn somewhere, and some traditions in this arena are non-negotiable.
THE CONTENDERS 
We can't talk about the trench without talking about Burberry Group Inc., so let's get that over with. 

In his book Gentleman (H.F. Ullman, revised edition, 2016), German fashion expert Bernhard Roetzel writes, "Some people may ... be put off by the Burberry house check, a lining pattern which has become extremely well known." This is the politest way possible to say that the check has become, in the U.K., the official clan pattern of chavs and that it presents, all around the world, a case study in status symbols degraded by overexposure. Try to count how often you see a Burberry -check scarf worn with an outfit further accessorized by a Lululemon shopping bag and a caramel macchiato. While I have a few substantial complaints about the $1,895 Burberry trench coat I tested—the extreme ease with which it wrinkled, the flamboyant ungainliness of its throat latch—mostly, I am allergic to its lining.
If you also suffer this malady, Roetzel believes, and I agree, that you should first look into Aquascutum. The single-breasted model called the Corby ($1,105) is quite streamlined, with a smart angle to its collar and a rakish jolt to its trapezoidal epaulets. The muted brown-and-blue check on the underside of its collar is not the sort of thing one associates with, say, a soccer riot.

There are very few other legitimate contenders to this title. Most classic American outfitters produce men's trenches of unspeakable boxiness. Many prominent European fashion houses produce trenches too skinny to slither over a suit jacket.
THE ONE
When I say that the one best trench coat in the world is made by Thom Browne Inc., I am awarding Browne a prize for drama. As we say, the trench is inherently stagey, and his coat brings the drama with a panache guided by great subtlety. 

Browne simply calls the color tan, but this shade has the depth of clover honey. On both the double-breasted front and the dashingly oversized epaulets, the mother of pearl buttons glisten regally. Unlike old-school trenches, Browne's has a double vent at the back, faced with grosgrain ribbon, and the flash of the ribbon's tricolor stripe adds a lot of pep to your stride—all the more when you leaved the unadorned sash of the belt undone, to trail behind. (As noted, a trench must have a belt, but belt buckles seem nonessential, and D-rings are slightly ridiculous. What—you need somewhere to latch your map case?)
Pared-down and spiffed-up, respectful of tradition but not hampered by it, this trench coat is the incarnation of elegance. I spent three weeks wearing a sample and in that time got more compliments from friends, colleagues, and strangers than I've received on anything else worn on my body in the past decade—a category that includes infants in slings.

I regret to inform you that Thom Browne's gabardine classic trench coat retails for $2,200. On one hand, it's priced like the high-fashion piece that it is. On the other, it's never going to go out of style.
THE RUNNER UP
As indicated, Aquascutum's Corby is also a trench worth digging. It is 49.7 percent less expensive than the Thom Browne, and only 37.5 percent less dashing, so this is the smart choice if you don't have deep pockets. Speaking of which, the Aquascutum pockets are excellent—capacious, nicely angled, and perfectly situated, with vents to reach through to fish your house keys out of your trousers. It's practical that way—the most pragmatic version of a most romantic garment.
Before it's here, it's on the Bloomberg Terminal.
LEARN MORE