South Korea's Presidential Race Tightens as Software Tycoon Gains on Frontrunner
By
Ahn supports deployment of U.S. missile shield in South Korea

May 9 election was triggered by dismissal of Park Geun-hye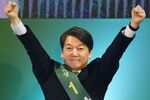 South Korea's presidential race narrowed as Ahn Cheol-soo, an advocate of a tougher stance against North Korea, surged in polling to be nearly level with left-leaning front-runner Moon Jae-in.
Ahead of the May 9 election, support for Ahn of the centrist People's Party jumped to 35 percent from 19 percent a week ago, the Gallup Korea survey showed on Friday. Moon, of the Democratic Party of Korea, garnered 38 percent support, up from 31 percent.
Read More: Meet the Candidates of the South Korean Presidential Election
The poll was the first taken by Gallup Korea since all major parties chose their candidates for an election triggered by the ouster last month of Park Geun-hye amid a graft scandal. The next leader will face multiple tasks including addressing the North Korean nuclear threats, Chinese retaliation over the deployment of the Thaad U.S. missile shield, and reform of the family-run conglomerates that contributed to Park's downfall.
Running third in the poll was Hong Joon-pyo of Park's conservative Liberty Korea Party. Support for Hong climbed to 7 percent support from 4 percent a week earlier.
Ahn, who has leaped into contention from a single-digit rating in early March, is probably attracting conservative voters plus supporters of some Democratic Party candidates who lost the nomination to Moon, according to political scientist Park Won-ho.
"Some conservative voters are clearly shifting to Ahn simply because they don't want Moon as president, while other conservatives actually like Ahn because he tells them what they want to hear, like his position on Thaad," said Park, a Seoul National University professor who specializes in voting behavior and research methods.
Supports Thaad
Ahn, 55, said on Thursday the next president should continue to allow the U.S. to install Thaad on South Korean soil. The millionaire founder of an antivirus software startup said he would name former United Nations Secretary-General Ban Ki-moon as a special envoy to enlist other nations against the threat from North Korea, which test-fired another ballistic missile this week.
Moon, 64, who was runner-up to Park in 2012, favors a softer line on North Korea and has said he would review the decision to deploy Thaad. He has fended off resurfaced accusations he is aligned with Kim Jong Un's regime by touting his background as a special forces veteran in South Korea's military.
Moon has also vowed to clean up what he calls "deep-rooted evil" in society, such as the cozy ties between chaebol business groups and successive governments.
Park was ousted on March 10 and arrested three weeks later on suspicion of bribery and abusing her powers. An election would have been due by December anyway, since Park's single, five-year term was set to expire in February 2018.
Before it's here, it's on the Bloomberg Terminal.
LEARN MORE