Senate GOP Gives Trump a Much-Needed Win With Supreme Court Vote
By
Senate confirms Gorsuch to high court after bitter fight

Partisan debate over judge could carry into policy goals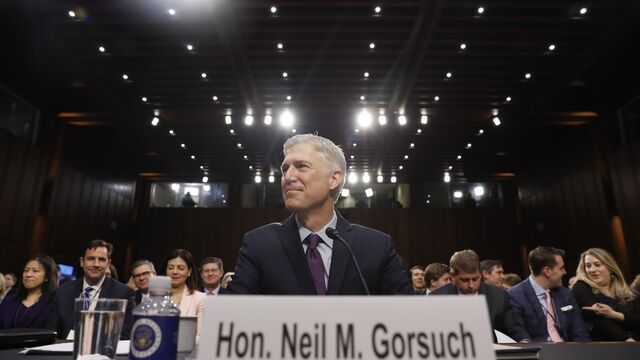 The Senate handed President Donald Trump his biggest victory so far, confirming Supreme Court nominee Neil Gorsuch after Republicans muscled past Democratic opposition with a unilateral rule change that may wind up poisoning the debate over the president's agenda in Congress.
With Vice President Mike Pence in the presiding officer's chair, the Senate voted 54-45 to confirm Gorsuch who, at age 49, is likely to help shape the court for decades to come. Trump is counting on him to reinstate a conservative-leaning 5-4 court under Chief Justice John Roberts.
Trump, in a statement, praised Gorsuch for "his judicial temperament, exceptional intellect, unparalleled integrity and record of independence."
Gorsuch will be sworn in Monday with a private ceremony at the court to be followed by a public oath-taking at the White House, the court said in a statement. Roberts will administer the oath at the court, and Justice Anthony Kennedy will preside at the White House. Gorsuch was a law clerk to Kennedy at the court during the mid-1990s.
"He has sterling credentials, an excellent record and an ideal judicial temperament. He has the independence of mind for fairness," Majority Leader Mitch McConnell said on the Senate floor Friday before the vote.
Democrats say Gorsuch favored corporations over working Americans as a federal appellate judge.
Fairness and Justice
"We all know there's an anger and sourness in the land because average people aren't getting a fair shake compared to the powerful," said Senate Minority Leader Chuck Schumer. "In many cases, the Supreme Court is the last resort for everyday Americans who are seeking fairness and justice against forces much larger than themselves."
All but four of the Senate's 48 Democrats refused to advance Gorsuch's nomination Thursday. Senate Republicans responded with a "nuclear option" rule change to lower the 60-vote threshold to a simple majority for all high-court nominees. The unilateral action will only increase the partisan discord in the Senate, Democrats said.
"They're throwing a monkey wrench in the gears of bipartisanship, and it's going to make a tough situation even worse," said Senator Chris Van Hollen, Maryland Democrat.
Three Democrats, Joe Donnelly of Indiana, Heidi Heitkamp of North Dakota and Joe Manchin of West Virginia joined all Republicans in voting Friday to confirm Gorsuch.
QuickTake: Why the Senate Voted to Cut Back Filibuster's Reach
Trump said Thursday that Republicans' decision to lower the vote threshold to advance nominees won't affect his future choices -- even as he mused to reporters on Air Force One that he might nominate as many as four justices before his term ends in January 2021.
"Under a certain scenario there could even be more than that," he said. "But no, I don't think the nuclear option has any impact."
Trump nominated Gorsuch on Jan. 31 to replace Justice Antonin Scalia, who died in February 2016. While the judge was unanimously confirmed to the appellate court in 2006, his high-court confirmation took on a sharply partisan bent.
He was approved on a party-line 11-9 vote by the Senate Judiciary Committee after Democrats accused him of evading their questions on his judicial views and pointed to his rulings that they said show a bent toward favoring corporations over ordinary people.
Other Democrats said Gorsuch's nomination was tainted by Republicans' refusal last year to consider President Barack Obama's nomination of Judge Merrick Garland for the vacancy. Oregon Democrat Jeff Merkely accused Republicans of the "theft" of the court seat.
Mainstream Judge
Republicans said Gorsuch is a mainstream selection who is highly qualified. He made no obvious stumbles during about 20 hours of committee questioning.
Gorsuch's rise is a rare bright spot for Trump amid court rulings halting his immigration order, Republicans' inability to agree on an Obamacare repeal, and investigations of potential connections between Russia and Trump's presidential campaign.
The Senate confirmation comes in time to let Gorsuch join the nation's highest court in time for its last arguments of the term starting April 17.
Congress will move on to big debates over government spending, a debt-limit increase, border security, a tax overhaul and infrastructure. Even after Thursday's rule change, Senate Democrats will keep the ability to block legislation by demanding a 60-vote threshold, so the minority party's support will be needed to pass anything in a chamber Republicans control 52-48.
Senate Judiciary Committee Chairman Chuck Grassley, an Iowa Republican, insisted that the rules change won't get in the way of bipartisan work on other aspects of the congressional agenda. He said he and Senator Dick Durbin of Illinois, the No. 2 Democratic leader, plan to work together on a criminal justice measure after the two-week spring recess that starts Friday.
"We're going to do what it takes to get get the comity back to the Senate," Grassley said.
Before it's here, it's on the Bloomberg Terminal.
LEARN MORE