Junk for South Africa as Fitch Joins S&P in Cut on Politics
By
Both local and foreign-currency ratings reduced to junk

BNP sees above-junk local rating from Moody's, S&P for year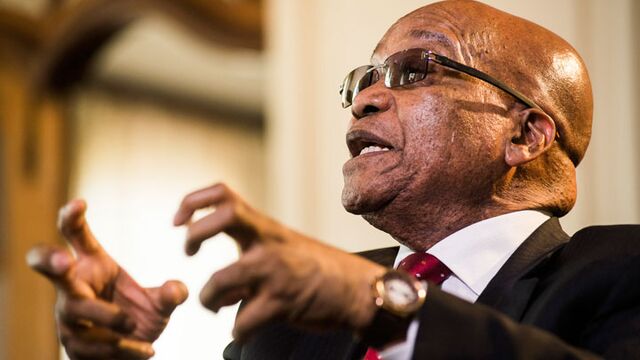 South African debt got dealt a second blow in a week as Fitch Ratings Ltd. joined S&P Global Ratings and cut the nation's credit assessment to junk following President Jacob Zuma's move to fire a well-respected finance minister.
Fitch reduced the foreign-currency rating to BB+, the highest non-investment grade and on par with Turkey and Portugal, four days after S&P reduced its assessment. The local-currency rating was also lowered one level to junk, the company said in a statement on Friday. It raised the outlook to stable, which means Fitch is unlikely to cut again in the next year. This pared the decline in rand and bond yields.
Zuma fired Finance Minister Pravin Gordhan, who pushed for budget restraint and improved management at state companies, in a cabinet reshuffle on March 31, igniting South Africa's worst political crisis in almost a decade and sparking calls from top officials for him to resign. Investors regard the firing as a blow to an economy growing at the slowest pace since a 2009 recession and grappling with 27 percent unemployment and the rand and bonds plunged.
The downgrade "reflects Fitch's view that recent political events, including a major cabinet reshuffle, will weaken standards of governance and public finances," the company said. "The reshuffle is likely to undermine, if not reverse, progress in state-owned enterprises' governance, raising the risk that SOE debt could migrate onto the government's balance sheet."

Zuma doesn't understand how his actions can influence decisions by rating companies, and his actions showed a "recklessness" that ruined South Africa's credibility, former President Kgalema Motlanthe said in an April 3 interview.
While Fitch's announcement is a "setback," the government remains committed to improving business confidence and implementing "structural reforms to accelerate inclusive economic growth," the National Treasury said in an emailed statement. It also affirmed its "full commitment to the policy stance" set out in the February budget, the statement said.
The rating on local-currency debt, which constitutes 90 percent of South Africa's debt portfolio, will probably remain in investment-grade territory with both Moody's Investors Service and S&P for the next year, Jeffrey Schultz, an economist at BNP Paribas Securities in Johannesburg, said in an emailed note to clients. Downgrades by one of those companies would spark forced selling by investors who track debt indexes. Eligibility criteria for gauges such as Citigroup Inc.'s World Government Bond Indexes doesn't include Fitch, he said.
ANC Pressure
Pressure within the ruling African National Congress has been growing for Zuma to step down after he recalled Gordhan from an investors' trip in London March 27. The former minister was holding meetings with investors and ratings companies. The president replaced Gordhan with former Home Affairs Minister Malusi Gigaba, who has no financial or business experience, making him the nation's fourth finance minister in 15 months.
Both the South African Communist Party and the Congress of South African Trade Unions, the country's biggest labor federation, have called on Zuma to resign, as has a group of the ANC's veteran members. Thousands of people gathered across the country Friday to demand that Zuma goes.
The rand, which had been the world's best-performing currency in 2017 until the March 27 recall, has now erased all its gains this year for the biggest decline among more than 140 currencies monitored by Bloomberg. While the rand decreased as much as 0.6 percent after Fitch's announcement, it pared the drop to trade 0.2 percent weaker at 13.7913 per dollar by 3:26 p.m. in Johannesburg. Yields on rand-denominated debt due in December 2026 fell 5 basis points to 8.96 percent.
"The rand is exceptionally resilient because these downgrades are happening during a time of positivity about emerging markets and strong flows into emerging markets," George Herman, the chief investment officer at Citadel Investment Services in Cape Town, said by phone. "The outlook does add to a sense of positivity."
No-Confidence Motion
Zuma, 74, will face a no-confidence motion in parliament on April 18 sponsored by opposition parties. The ruling ANC said its members won't vote against the president, whose decision to change the cabinet was criticized by three senior members of the party, including Deputy President Cyril Ramaphosa.
Zuma, who's due to step down as ANC leader in December and as the nation's president in 2019, has survived a series of corruption scandals and presided over the party's worst-electoral performance since the end of apartheid in 1994 in municipal elections in August.
Moody's put its Baa2 assessment, which is two levels above junk, on review for a downgrade on April 3.
— With assistance by Sam Mkokeli, and Robert Brand
Before it's here, it's on the Bloomberg Terminal.
LEARN MORE