Indonesia Seeks Growth Boost to Meet 7% Target, Indrawati Says
By
Government to use all available intruments to boost economy

President not satisfied with level of growth, Indrawati says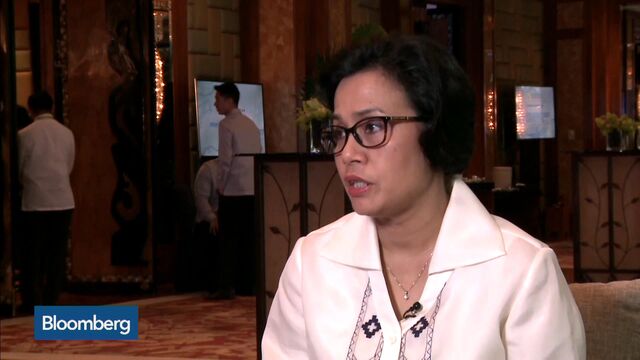 Indonesia will use all available tools to boost economic growth as President Joko Widodo still isn't happy with the performance, Finance Minister Sri Mulyani Indrawati said.
Southeast Asia's biggest economy grew 5 percent last year, well short of the 7 percent the president, known as Jokowi, had initially vowed to achieve when he came into office in 2014. Earlier this week he lowered the growth forecast for 2018 to 5.6 percent from 6 percent, Bisnis Indonesia reported.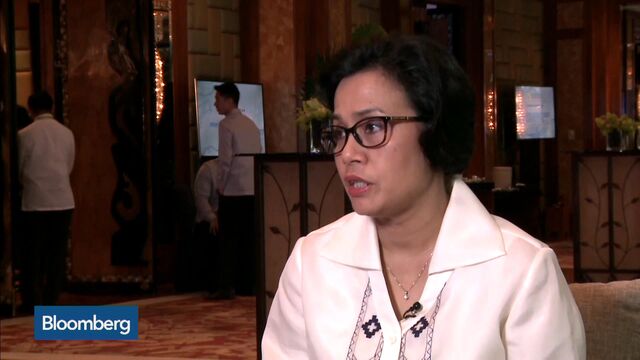 "The president is definitely not satisfied with the level of the growth," Indrawati said Friday in an interview on Bloomberg TV with Haslinda Amin on the sidelines of regional meeting of finance chiefs in Cebu, Philippines.
"Within this first term we are going to use all the instruments and policies of the government to revitalize and strengthen the growth coming from what we can control," she said.
Lower commodity prices and a slowdown in China are key factors why the government hasn't achieved its 7 percent growth target yet, Indrawati, who joined Jokowi's cabinet in July, said.  
Those global factors are "definitely affecting the performance of growth, which was perceived at the first initial period of his presidency as a strong environment," she said.
The government wants faster growth without causing risks, she said. "You don't want to just have 7 percent growth when it's not sustainable, for example by pushing more on the fiscal deficit," she said, adding that improving the investment and business environment was a better course of action.
— With assistance by Yudith Ho
Before it's here, it's on the Bloomberg Terminal.
LEARN MORE