EU Jobs Carve Up Starts Again With Dijsselbloem Under Threat
By and
Eurogroup president's term will expire in January 2018

Two-thirds of ECB Executive Board to change by end of 2019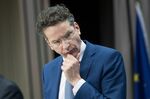 For five centuries, Valletta's Fort St. Elmo was the perfect place to spot changing winds and new foes on the Mediterranean horizon.
Euro-area finance chiefs gathering there from Friday might find it the ideal setting to scout out the competition for a reshuffle of top jobs over the next two years that includes a successor to European Central Bank President Mario Draghi.
The meeting in the Maltese capital -- to discuss topics such as Greece's bailout and deeper economic and monetary union -- will be convened by Jeroen Dijsselbloem, who faces losing his post as Dutch finance minister after his party was routed in elections. That potentially puts his leadership of the group of his counterparts, known as the Eurogroup, up for grabs earlier than scheduled, feeding into a series of term expiries that will see two-thirds of the ECB's Executive Board, the regional bank supervisor and possibly the head of the European Investment Bank replaced by the end of 2019.
Those jobs are all within the gift of governments, who like to ensure their countries get a share of the key European posts. So let the horse-trading begin.
Which positions are coming up and how are they decided?
Dijsselbloem's term in charge of the Eurogroup runs until January 2018, if he lasts that long, as does that of Germany's Werner Hoyer, president of the European Investment Bank. Portugal's Vitor Constancio vacates the post of ECB vice president in May 2018, and France's Daniele Nouy will leave her position as chair of ECB's Single Supervisory Mechanism at the end of that year.
The ECB will see an even bigger shakeup in 2019 when arguably the three most influential members of its six-person Executive Board step down. Chief Economist Peter Praet of Belgium leaves at the end of May, Italian native Draghi retires five months later, and France's Benoit Coeure goes at year-end.
The posts are all negotiated by governments and voted on by euro-area finance ministers, or European Union ministers in the case of the EIB. Appointments to the ECB also need sign-off from the European Parliament.


But Dijsselbloem's job might become available earlier?
Possibly. The collapse of his Labour Party in Dutch elections means there is very little chance he'll serve a second term as finance minister once a new government is formed. He also managed to offend nations that received aid by saying last month "I can't spend all my money on women and drink and then at the end ask for your help." Euro-area finance chiefs are expecting an "explanation" for that comment at Friday's meeting, Spain's Luis de Guindos told reporters in Valletta.
At the same time Germany's Wolfgang Schaeuble, who met with Dijsselbloem in Berlin on Thursday, came to his Dutch colleague's defense.
"Dijsselbloem has become the victim of a pretty obvious campaign," Schaeuble said. "He gave an interview that didn't appear objectionable to any German reader. It was given a spin and a campaign was made out of it. That's how people work sometimes."
A new Dutch government might be months away, and even without a ministerial portfolio he wouldn't necessarily be barred from serving out his full term as Eurogroup head. Dijsselbloem claims he has "very, very broad" support among his colleagues and said Friday that nobody asked for his resignation. Nevertheless, it's important to think ahead, he said.
"We need to make sure by the time I leave office or the term ends there should be a successor in the job," Dijsselbloem said.
Who could succeed him?
While each of the 19 euro-area finance ministers is eligible, the group has traditionally been headed by representatives of smaller economies, de facto excluding Germany, France and Italy.
Among names being circulated are Slovakia's Peter Kazimir, Spain's de Guindos, Austria's Hans Joerg Schelling and Malta's Edward Scicluna.
Anything else to keep in mind?
Politics, of course. Dijsselbloem is a Social Democrat, whereas the top three posts in the EU are headed by members of the conservative European People's Party. Giving another conservative a major role such as the Eurogroup chief could be frowned upon, potentially boosting the chances of Kazimir and Scicluna.
Isn't it about time Spain got a senior European role?
Spain certainly thinks so, but de Guindos -- whom Dijsselbloem beat in 2015 -- may be more concerned with regaining the ECB post the nation lost in 2012 than the Eurogroup job. The Spaniard regularly laments his nation's under-representation and said on Friday that he's "sure" that the currency bloc's fourth-biggest economy will win the position vacated when Constancio retires.
If de Guindos doesn't want the ECB job himself, his compatriots Jaime Caruana, whose term as general manager of the Bank for International Settlements ends this year, and former International Monetary Fund director Jose Maria Vinals could throw their names in the ring.

Nice ECB chart, but isn't it rather bare of eastern Europeans?
Well, eastern European countries only started adopting the single currency in 2007 and the central bank governors of Slovakia, Slovenia, Estonia, Latvia and Lithuania are all on the ECB's decision-making Governing Council. Still, no representative from the former communist bloc has yet served on the Executive Board, which sets the monetary-policy agenda. With four of those six positions coming due, maybe it's time.
What might be on offer for Germany?
Europe's largest economy has a strong presence in European institutions -- the EIB and the European Stability Mechanism are both headed by Germans -- but it's never held the ECB presidency. It's still unclear whether it'll push for the role in 2019, though one speculative combination of moves leaves room. Sabine Lautenschlaeger, already doubling up as SSM vice chair, could depart from the ECB's Executive Board early to replace Nouy as chief of the bank-supervision arm. Another German -- potentially Bundesbank President Jens Weidmann -- could then take over from Draghi.
Other nations might be after the presidency as well though -- even France, which has already provided an ECB chief in Jean-Claude Trichet. It might push Bank of France Governor Francois Villeroy de Galhau. Some may seek allies while Dijsselbloem and Constancio's successors are being discussed, with the replacements for Praet and Coeure providing plenty of leeway for deal-making.
And let's not forget about the European Investment Bank
It may not be in the limelight much, but the Luxembourg-based EIB claims to be the world's largest multilateral borrower and lender and could be an attractive option for some nations. Hoyer's six-year term is renewable, and he hasn't said if he intends to stand again.
While a German proposal for a second term for Hoyer "receives a lot of support," the matter won't be discussed until after the French elections, Schaeuble said on Saturday.
Is there any rush to get this all settled?
Finance ministers have plenty on their plate already, with elections in France and Germany, possibly also in Italy, continued talks over Greece's bailout, and seemingly interminable discussions over banking regulations and the incomplete economic and monetary union. Still, when did that ever stop politicians talking about their jobs?
— With assistance by Corina Ruhe, Viktoria Dendrinou, Jonathan Stearns, Radoslav Tomek, Ben Sills, Nikos Chrysoloras, Carolynn Look, Rainer Buergin, Lorenzo Totaro, Ian Wishart, and Alessandra Migliaccio
Before it's here, it's on the Bloomberg Terminal.
LEARN MORE