Altice Targets IPO of About 20% of U.S. Cable Unit
By and
Altice, partners may take advantage of surge in stock prices

Billionaire Drahi said to seek proceeds for potential deals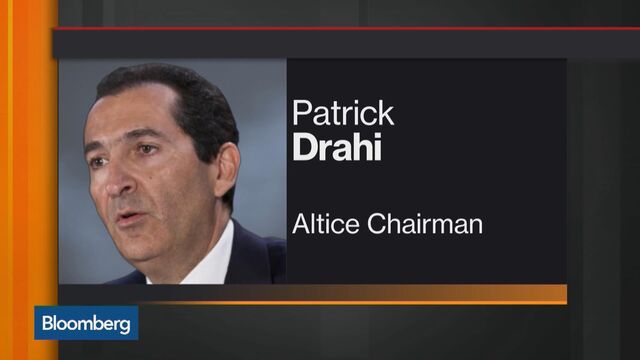 Altice NV and its partners are exploring a sale of about 20 percent of their U.S. cable-TV business in an initial public offering this quarter, as billionaire Patrick Drahi takes advantage of historically strong equity markets to raise cash for expansion, according to people familiar with the matter.
Drahi's Altice may use the proceeds from the listing of Altice USA to help fund local acquisitions, said the people, who asked not to be named discussing private matters. Closely held Cox Communications Inc. is one potential target for Altice, one of the people said.
Canada Pension Plan Investment Board and BC Partners hold about 31 percent of the U.S. cable subsidiary. Fund holdings may make up most of the stock being sold in the IPO, while Altice may sell a small stake, the people said. No final decisions have been made and some of the shareholders may decide to keep their stakes.

Drahi has spent the last few decades expanding his cable operations in Europe and the U.S., using record-low interest rates to acquire wireless companies and cable TV providers. An American listing will provide the billionaire with stock he could use to pay for further targets amid rapid consolidation in the the U.S. cable industry.
Altice rose a s much as 3.1 percent in Amsterdam, the steepest intraday advance in two weeks, and was up 2.3 percent to 20.87 euros at 2:12 p.m.
Altice USA adding more debt through acquisitions is no longer an issue for the company's Amsterdam-based parent after it refinanced 21 billion euros ($22.4 billion) in borrowings last year, another person said. Altice had about 50 billion euros of net debt at the end of 2016.
Spokesmen for Altice and Canada Pension Plan declined to comment. BC Partners couldn't immediately be reached for comment. A Cox spokesman said the company isn't for sale and plans to pursue investments, partnerships and acquisitions that align with its business objectives.
Cable Deals
Surging stock prices after Donald Trump's election victory has opened the door for companies waiting to pursue a U.S. listing, and indexes that track broadcast and cable companies have outstripped gains in the already lofty market since November.
While Altice's French unit SFR has struggled in one of Europe's most competitive markets, Drahi has launched a broadband upgrade plan in U.S. after buying Cablevision Systems Corp. and Suddenlink Communications to expand his transatlantic cable empire. BC Partners and Canada Pension Plan were co-owners of Suddenlink and invested alongside Altice when it paid $17.8 billion for Cablevision in 2016.
Several big cable deals have closed in the past few years in the U.S. AT&T bought DirecTV to become the largest pay-TV operator in 2015, and Charter Communications Inc. last year acquired Time Warner Cable Inc. and Bright House Networks LLC to become the No. 2 cable-TV provider behind Comcast Corp.
Altice USA had 2016 revenue of about 8.2 billion euros. The company has more than 4.6 million residential and business customers, according to its website.