business
Ailing Novo Seeks Cure With Diabetes Drug Targeting Fat Too
By
CEO says semaglutide may be a rival to surgery for obesity

Drug may approach $10 billion in sales in decade, Nordea says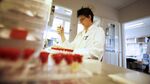 Novo Nordisk A/S has a potent new medicine that Chief Executive Officer Lars Fruergaard Jorgensen is counting on to nurse the drugmaker back to health.
The experimental treatment, called semaglutide, should go on sale next year as an injection for diabetes. But that's only the first step of Novo's development plan: Its scientists are working on a patient-friendly tablet version of the drug that could reach pharmacy shelves in 2020. They're also testing the product for a form of liver disease, a market some analysts say may eventually yield $35 billion a year in sales, as well as obesity.

As a slimming medicine alone, its effect could get closer to the results delivered by bariatric surgery, Jorgensen said in an interview. The drug's annual sales may climb to almost $10 billion over the next decade, even before taking into account its potential use as an obesity treatment, according to Nordea estimates, providing a much-needed boost for the Danish company. Only one drug in the entire pharmaceutical industry exceeded that last year.
Semaglutide is "the road to Novo's salvation," said Peter Verdult, an analyst at Citigroup Inc. in London. Even just being the first drugmaker to turn an injection of this class into a pill would be "monumental," he said.
Novo's reliance on various forms of insulin powered its sales and stock price for years as the number of patients who needed the hormone to keep their blood-sugar levels in check swelled. But lately, amid fierce competition and pressure on prices, Novo's reliance on diabetes medicines, which bring in 80 percent of its sales, has proved painful. The company has lost a third of its market value in the past year, slashed its profit-growth forecasts by half and faced mounting resistance to higher prices.

Hormone Mimic
Semaglutide is one of the most promising drugs in a class of cutting-edge diabetes treatments known as GLP-1s for their ability to mimic a hormone by that name. It may also face pricing challenges, and unlike rival Eli Lilly & Co.'s Trulicity, it's still experimental: Regulators have yet to approve it. Novo plans a launch early next year and views it a springboard into new territories at a time when delivering further innovation in diabetes is becoming more difficult.
The three ailments Novo targets aren't unrelated. NASH, or non-alcoholic steatohepatitis, is a form of liver inflammation and damage caused by a buildup of fat -- and because it's tied to the insulin resistance that underlies the most common form of diabetes, it tends to respond to the same drugs. The disease is also most prevalent in the obese or overweight.
"Years back, we were an insulin company," said Jorgensen, who took over as CEO at the start of the year. "Now we are also a GLP-1 company, and GLP-1 has taken us into obesity, and now potentially in the future into NASH. So we're diversifying."
Radical Diet
An intermediate test of how well semaglutide works for weight loss alone is wrapping up this month. The full results should be released later this year in a test of Novo's expansion strategy. That will determine whether the drugmaker moves to the last -- and most expensive -- phase of clinical trials. Novo sells another slimming medicine, Saxenda, but says semaglutide shows more promise.
Novo's main European rival, French drugmaker Sanofi, tried to sell a drug against obesity and diabetes a decade ago and failed. U.S. regulators rejected the medicine because it was linked to increased risks of suicide. But safety isn't the only obstacle for Novo. To be a hit, the drug must be cost effective and deliver well beyond the weight loss of about 5 percent offered by existing medicines. People who opt for bariatric surgery can lose 30 percent to 40 percent of their excess body weight within six months.
The studies in NASH, an illness with no effective treatment that's drawing investment from other drugmakers, are expected to finish in 2019. The drug could benefit patients in the early stages of the liver condition, Jorgensen said. Novo is looking at other obesity treatments that have the potential to work in NASH and plans to eventually look for partners in the field, he said. About one fifth of the people with the illness go on to develop life-threatening cirrhosis.
The competition will be fierce. Companies including Gilead Sciences Inc., Pfizer Inc., Novartis AG, Allergan Plc and Intercept Pharmaceuticals Inc. are racing to reach an untapped market.
Prospering outside of the diabetes field isn't a luxury for the Danish drugmaker, though. "How important is it to Novo that they successfully execute?" Citigroup's Verdult said. "Hugely."
(
Adds weight loss statistics in 10th paragraph.
)
Before it's here, it's on the Bloomberg Terminal.
LEARN MORE