Your Evening Briefing
Bloomberg News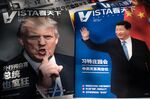 The evening briefing will soon be available in your inbox every day. To be among the first to get it, sign up here. 

A meeting between Donald Trump and Xi Jinping is hours away, and if there's one thing Xi must do, it's tread carefully. It's the equivalent of an election year in one-party China, with many senior party members expected to be replaced. Any conflict with the U.S. would be bad news for the Chinese president's leadership credentials, and on the agenda will be everything from trade to North Korea's nuclear threat. Trump has criticized China repeatedly, so things could get interesting. —Brent O'Brien
Investors are being lured to South Korea — that's right, scandal-plagued South Korea. The nation's stocks have shown they can overcome a presidential impeachment, Chinese economic sanctions and nuclear tests by the country's northern neighbor. Next up, foreign funds are optimistic about an expected overhaul of the nation's sprawling conglomerates.
Australian millennials have the second-lowest level of home ownership for their peer group, according to an HSBC survey. Only 28 percent of Australians aged 19-36 own their own home, well below France's 41 percent and China's 70 percent.
Tech giants dominate the world's biggest companies. China's Tencent has just vaulted over Wells Fargo to become the world's 10th-biggest publicly traded company. Six of the top 10 companies by market capitalization are now technology firms.
This 25-year-old may give Hong Kong its first $1 billion startup. Tink Labs, founded in 2012 and led by Chief Executive Officer Terence Kwokis, is in the process of raising about $40 million and aiming for a valuation of more than $1 billion, according to people familiar with the matter.
Bezos sells $1 billion in Amazon stock a year to fund Blue Origin, the company fueling his dream of sending people into space. The world's second-richest man unveiled what he believes is just the thing to entice people to pay about $300,000 for a quick flight to suborbital space: big windows.  If you're going to fork out that much cash to leave the planet, you'll probably want to see quite a bit of it.
You may want to check down the back of your sofa if you live in a country that gave up its currency for the euro. More than 15 billion euros ($16 billion) of outdated banknotes and coins in the EU have not yet been handed in and exchanged for euros, although about a third of that amount is now worthless. More than half of the hidden treasure is stashed away in Germany.
The world's 50 best restaurants are revealed. Eleven Madison Park in New York took the top spot, becoming the first U.S. establishment to win the award since 2004. Chef Daniel Humm features dishes such as sea urchin custard with baby squid, bay scallop and apple; and pear poached with honey and acorn. Check out the rise and fall of Asia's top kitchens here.

Before it's here, it's on the Bloomberg Terminal.
LEARN MORE