markets
Vlieghe Says Faster U.K. Inflation Alone Won't Nudge Him to Hike
By and
Consumer squeeze means spending could weaken this year

Wages aren't signaling inflation pressure in labor market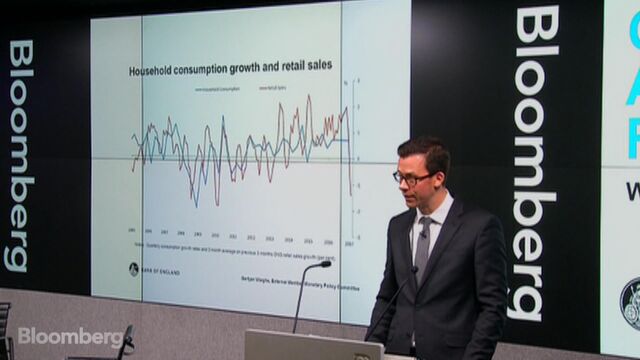 The Bank of England will need to see more than just a spike in inflation before it raises interest rates if policy maker Gertjan Vlieghe has his way.

While consumer-price growth is accelerating more than the BOE projected, Vlieghe said there's no mechanical link to higher borrowing costs. The surge may just mean the impact of the pound's sharp decline since the Brexit vote is hitting home faster and could, potentially, fade faster as well.
"If inflation expectations remain anchored, the fact that the peak is higher isn't necessarily a signal that policy needs to be tighter," Vlieghe said in an interview in London on Wednesday. "If the peak is higher it may simply mean that the pass-through is happening quicker."

The fluctuations of the exchange rate and its impact on inflation and consumer spending are some of the variables policy makers, who make their next decision on May 11, are assessing as they help the economy ride out whatever uncertainty is thrown up by Britain's exit from the EU. While growth proved surprisingly strong in the second half of 2016, Vlieghe said that could change as the deteriorating inflation picture eats into real incomes and undermines consumer spending.
Vlieghe's comments reinforce the idea that some traders may have overreacted to faster-than-forecast inflation and news that one of the nine Monetary Policy Committee members voted to hike the benchmark interest rate. Sterling swaps data put the probability of a BOE increase within the next year at more than 50 percent at one point during March. They've since slipped back to about 31 percent.
Inflation jumped to 2.3 percent in February, the fastest since 2013 and the fifth month since the EU referendum in June that it's exceeded economists' estimates. Compared with a few months ago, Vlieghe said he has "more confidence" that the consumer slowdown is underway, though he added that "if that data changes, I'll change my mind very quickly."

Policy makers are also watching wage growth for signs of underlying inflation pressure. In February, Governor Mark Carney said the consensus on the rate-setting panel is now that the unemployment rate can drop to about 4.5 percent before fanning price growth, compared with about 5 percent previously.
The jobless rate slipped to 4.7 percent in January, the lowest since 2005, though pay gains have fallen back to an annual 2.3 percent from 2.6 percent. That's central to Vlieghe's view that it's not time to begin tightening.
"There's absolutely no evidence that this process has begun where the unemployment rate has hit a level that low enough to push up wages in a sustained way," Vlieghe said. "It's not in the data."
While the BOE is watching Brexit developments, it's focusing more on how people react to them rather than the news itself, Vlieghe said. Whatever new arrangements the U.K. works out with its European trade partners, the bank will be focused on the impact on supply, demand, and, "crucially, what happens to the exchange rate."
After an emergency rate cut and additional bond buying in August, Vlieghe said the debate on the MPC has evolved with the economy, even though policy hasn't actually changed. He agrees with his colleagues that interest rates "will be moving up a little bit" over the next three years.
"We went from more stimulus, to no stimulus, to maybe some removal of stimulus," he said. "That's quite a big change."
Before it's here, it's on the Bloomberg Terminal.
LEARN MORE