Trump Signals Possible Military Response to Syria Gas Attack
Margaret Talev, Nick Wadhams, Peter Martin and Tony Capaccio
U.S. president says attack crossed a 'red line' for him

Senator Corker says president should 'keep his rhetoric low'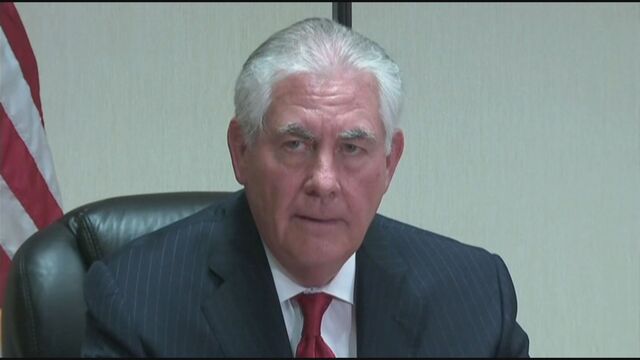 The U.S. signaled it may take action in Syria one day after President Donald Trump said a poison-gas attack that killed scores of civilians and drew international condemnation went beyond a "red line" for him.

The Pentagon is actively developing military options for Syria, according to a U.S. official who requested anonymity to discuss internal deliberations. The U.S. could use standoff weapons, such as Tomahawk cruise missiles, to target Syrian military sites, another U.S. official said.
Trump has spoken with Defense Secretary James Mattis, Secretary of State Rex Tillerson, CIA Director Mike Pompeo, and National Security Adviser H.R. McMaster about the attack and U.S. options for a response, a third administration official said. He plans to expand his discussions, the official said, on condition of anonymity because of the sensitivity of the matter.
Tillerson said Tuesday's attack, which outside groups said bore the hallmark of sarin gas, "is a serious matter. It requires a serious response."
He told reporters Thursday in Palm Beach, Florida, that "steps are under way" to mobilize a coalition to remove Syrian President Bashar al-Assad, but he also said that any effort to do that would probably come after Islamic State terrorists in the country are defeated and some stability returns to the Middle East country.
Trump is under increased pressure to act against Assad after the April 4 attack, which killed more than 70 people, including women and children. The U.S. president finds himself in a similar spot to his predecessor, Barack Obama, who also weighed a military response in 2013 after Assad launched a sarin gas attack killed more than 1,000 people near Damascus. Obama stepped back from open conflict after reaching an agreement with Russia that was supposed to eliminate Assad's chemical weapons stockpile.
Since then, Syria's six-year civil war has only become more complex. Russia intervened on Assad's behalf in late 2015, adding to a fight that now includes Iranian, Turkish, Syrian and extremist forces. Any U.S. escalation risks making a bad situation even worse.
'Lot of Options'
The president is "being presented with a lot of options," White House spokesman Sean Spicer said earlier Thursday, adding that he wouldn't preview those alternatives until Trump is ready to decide. He said the president has spoken to other leaders about the possibility of setting up "safe zones" to protect civilians. While hundreds of U.S. special forces are already inside Syria, those troops are focused on targeting Islamic State.
Republican Senator John McCain, a longtime proponent of removing Assad, said the administration should bomb runways to make sure the regime's air force is grounded, though that could put the U.S. in direct conflict with Russian military. Senator Bob Corker, who heads the Foreign Relations Committee, said more pressure should be put on Russian President Vladimir Putin, who he said is supporting a "monster" and "war criminal" in Assad. 
"Some type of response is necessary," Corker told reporters. Later, in an interview on CNN, he said the president should "keep his rhetoric low" and "listen to military and other advisers."
At the United Nations, diplomats privately debated a resolution condemning the attack and demanding access to Syrian air bases by UN investigators. Russia, which has backed Assad militarily since late 2015, would probably veto that measure after putting forward a separate measure which wouldn't compel Syria to provide such access. Tillerson is scheduled to meet with Putin next week in Moscow.
'Disgrace to Humanity'
Referring to the attack and Assad's role, Trump told reporters aboard Air Force One on Thursday that "what happened in Syria is a disgrace to humanity. And he's there, and I guess he's running things. So something should happen."
The flurry of activity followed Tuesday's attack in the northwestern province of Idlib. At the UN Security Council on Wednesday, U.S. Ambassador Nikki Haley stood up at her desk to show diplomats photos of dying children gasping for air. She accused Russia of pushing a "false narrative" that blames rebel forces for the attack, and issued a new warning.
Russian officials on Wednesday said it is too soon to assign blame for the attack, while Syria's government said pilots bombed what turned out to be a rebel-controlled chemical weapons stockpile. Officials at the Kremlin and Russia's foreign ministry didn't immediately respond to requests for comment. 
Turkey's President Recep Tayyip Erdogan welcomed the tougher U.S. stance against Assad's government but said it "shouldn't be left at just words." In a television interview, Erdogan said Turkey is "ready to do what falls to us" and called for a meeting of the U.S.-led coalition in Syria to discuss options, according to Turkey's official Anadolu news agency.
As Trump prepared to meet Chinese President Xi Jinping in Florida on Thursday evening, the Syria attack as well as a series of missile tests by North Korea's regime were pushing the American leader to move beyond simply criticizing his predecessor.
Dying Children
"I have to just say that the world is a mess," Trump said at a White House news conference Wednesday. "I inherited a mess, whether it's the Middle East, whether it's North Korea, whether it's so many other things."
Trump said Tuesday's attack had changed his calculus.
Trump has favored the idea of creating safe zones for Syrian refugees since he was a candidate but hasn't fully articulated a plan for how they would enforced or where they would be located.
Tillerson raised the idea last month at a State Department-organized meeting on battling Islamic State. He said the coalition fighting the terrorist organization would seek to set up "interim zones of stability, through cease-fires, to allow refugees to return home."
Setting up safe zones likely would require extensive military involvement, with both air and ground support, in the absence of such a cease-fire accord.
While Trump's national security team has discussed options for Syria as well as North Korea, the president has yet to detail to Congress or the American people what he plans to do. As was the case for Obama, there's no simple solution for either problem.
'He Owns This'
The chemical attack and latest North Korea missile launch on Wednesday ahead of Trump's summit with Xi "are the most serious challenges he's had to face as president," said Nicholas Burns, a former undersecretary of state and a Harvard University professor.
"He owns this," Burns said. "President Obama is no longer the president and President Trump has to be the one that gives us a way forward. And we have not heard that."
Senator Ben Cardin of Maryland, the top Democrat on the Senate Foreign Relations Committee, said it's vital that the administration seek approval of an authorization for the use of military force if Trump plans to take military action in Syria -- or at least inform lawmakers beforehand. "If he were to act without that process, it would be looked at as a very hostile act on presidential power versus the requirements of Congress.
Trump himself tweeted in 2013 that Obama should seek "congressional approval" before any attack on Syria. "Big mistake if he does not!" the future president said.
— With assistance by Kambiz Foroohar, Laura Litvan, Steven T. Dennis, and Ben Holland
Before it's here, it's on the Bloomberg Terminal.
LEARN MORE