Samsung Withstands Scandals to Report Higher Profit, Revenue
By
Quarterly operating profit climbs to highest since 2013

Samsung heir on trial for bribery and embezzlement charges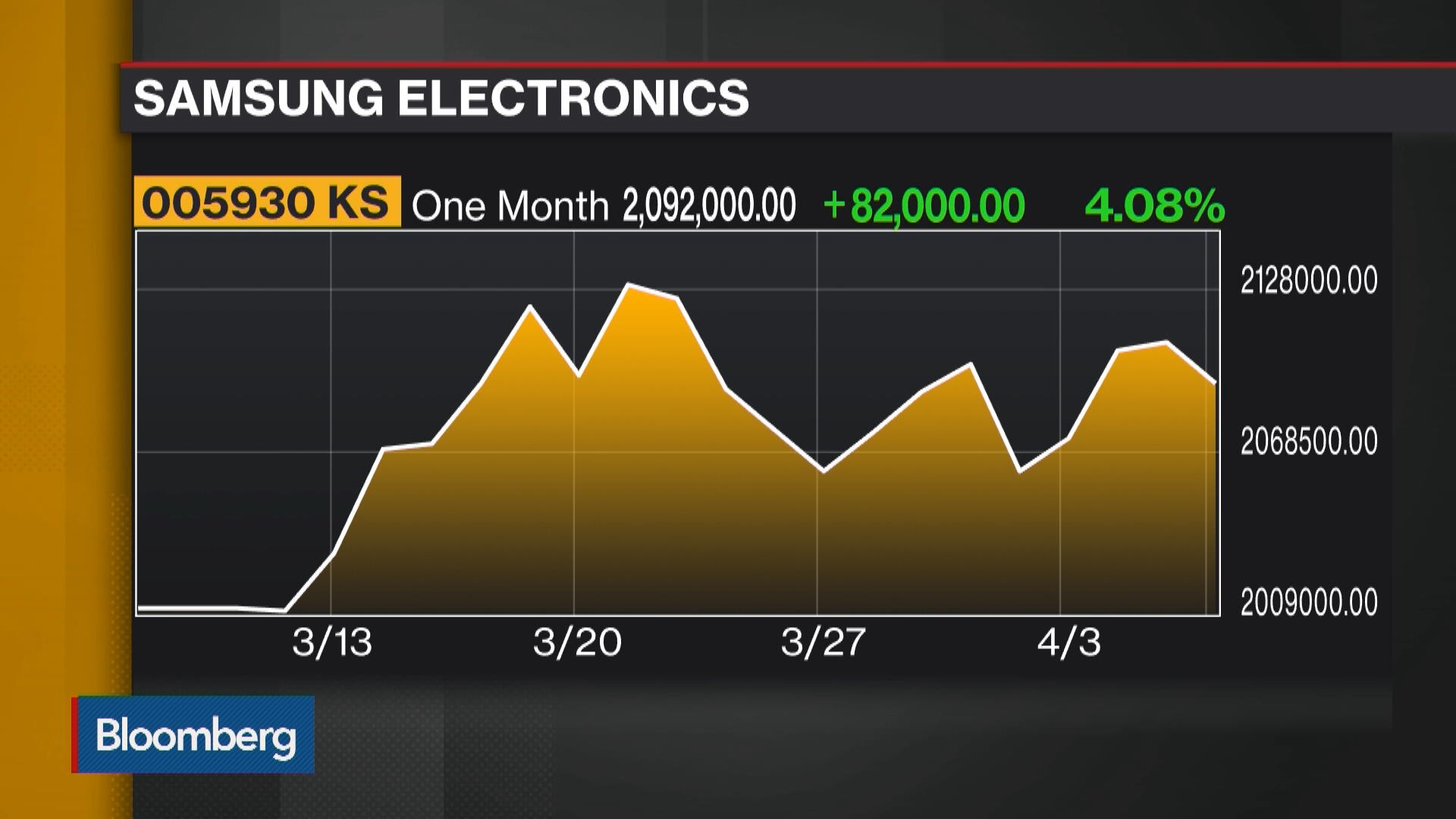 QuickTake Samsung leads the global semiconductor market, which is largely divided into DRAM and NAND sectors. While investment from Chinese companies threatens to drive down memory chip prices, the market will probably remain profitable for at least the next couple of years, according to IHS Markit. DRAM chips, along with NAND flash memory, are used in smartphones, tablets, personal computers and game consoles. What's Behind the Samsung Bribery Allegations
Samsung Electronics Co. posted its best operating profit in almost four years on robust sales of memory chips and displays, showing that the core businesses remain stable even as its mobile unit recovers from a costly recall and the trial of the group's de facto chief.
Operating income rose 48 percent to 9.9 trillion won ($8.74 billion) in the three months ended March, the Suwon, South Korea-based company said in preliminary results released Friday. That compares with the 9.18 trillion-won average of analysts' estimates compiled by Bloomberg.
Rising demand for memory chips and organic light-emitting diode screens helped to fuel a rise in sales to 50 trillion won in the quarter, compared with the 49.5 trillion won analysts expected. The results also underscore how the electronics conglomerate is recovering from last year's Note 7 crisis, when some smartphones burst into flames and forced Samsung to pull it from shelves. That was followed by the arrest of de facto chief Jay Y. Lee in February in connection with an influence-peddling scandal.

"Semiconductors probably accounted for about 6 trillion of the 9.9 trillion," said Claire Kim, an analyst at Daishin Securities Co. "The second quarter should be better, given it's the doorway to a high-demand season."
Samsung, which lost its global lead in smartphones to Apple Inc. in the fourth quarter, is now counting on its latest flagship phone, the Galaxy S8, to repair its reputation. The new smartphone, which didn't debut until after the end of the quarter and isn't reflected in the figures, will still face tough competition from Apple and up-and-coming rivals such as Huawei Technologies Co. and Oppo. The S8, which features a bezel-less display and voice-enabled digital assistant, was unveiled last week and will ship later this month.
Samsung's shares fell less than 1 percent in Seoul. They have climbed about 16 percent this year and are trading near record highs.
Korea posted record exports for semiconductors and OLED displays in the first quarter, its trade ministry said last week, without naming the manufacturers. SK Hynix Inc. is Samsung's main domestic rival for memory chips while LG also produces displays. Samsung posted its best operating profit in the third quarter of 2013 when it earned 10.2 trillion won.
The 48-year-old Lee has denied allegations from prosecutors that he bribed former president Park Geun-hye's friend to secure government backing for a 2015 merger that helped him tighten his control over Samsung. He's set to make his first court appearance on Friday.

Samsung won't provide net income or break out divisional performance until it releases final results later this month.
"Despite unprecedented issues like the massive Note 7 recall and the investigation of Jay Y. Lee under detention, earnings continue to skyrocket," Lee Seung-woo, head of research at IBK Securities Co., wrote in a report.
Samsung leads the global semiconductor market, which is largely divided into DRAM and NAND sectors. While investment from Chinese companies threatens to drive down memory chip prices, the market will probably remain profitable for at least the next couple of years, according to IHS Markit. DRAM chips, along with NAND flash memory, are used in smartphones, tablets, personal computers and game consoles.
QuickTake What's Behind the Samsung Bribery Allegations
"Just both NAND and DRAM right now are going gangbusters," said Mike Howard, senior director for memory chips at IHS Markit. "Prices are up across the board."
Quotes from this Article
Before it's here, it's on the Bloomberg Terminal.
LEARN MORE