Patel Says $5.6 Billion India Farm Bailout a 'Moral Hazard'
By
Loan waiver undermines honest credit culture: Governor Patel

Uttar Pradesh government waives loans for 21.5 million farmers
The populist farm loan waiver program set to be rolled out across the Indian state of Uttar Pradesh poses another risk for inflation and undermines an honest credit culture, said Reserve Bank of India Governor Urjit Patel.
"It impacts credit discipline, it blocks incentives for future borrowers to repay," said Patel at a press conference in Mumbai following the announcement of the central bank's rate decision on Thursday. "If on account of this, overall government borrowing goes up, yields on government bonds also are impacted."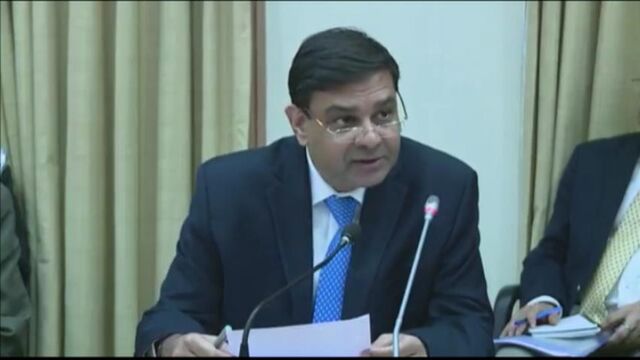 He called for governments to reject loan bailout programs, saying "waivers engender moral hazard."
Keeping a key election promise, the newly-formed Uttar Pradesh state government at its first cabinet meeting on Tuesday decided to waive farm loans worth 363.59 billion rupees ($5.6 billion) for over 21.5 million farmers.
Read more: Bailouts Fail to Rescue India Farmers Trapped in Debt Spiral
Prime Minister Narendra Modi had pledged that his Bharatiya Janata Party government in the state would waive farmers' loans if voted to power in India's most populous state. Last month his party won an historic 312 out of 403 seats in the state assembly.
Following the Uttar Pradesh announcement, some states including Maharashtra have came under pressure to waive farmers' debts, while others are demanding the Modi government bailout loans through out the country.
"The general government deficit, which is high by international comparison, poses yet another risk for the path of inflation, which is likely to be exacerbated by farm loan waivers," the RBI said in a statement.
While high levels of household debts have been recognized as a significant cause of farmers' distress, the use of unconditional debt relief to improve living conditions, crop productivity and to reduce suicides is controversial. About 52 percent of India's 90 million agricultural households are indebted.
Debt waivers are not a long-term answer to any agrarian crisis, India Ratings and Research said in a note Thursday, adding that bailouts exert pressure on state finances. State-owned banks will be most affected as they carry the highest proportion agriculture credit, Deutsche Bank research analysts said.
Uttar Pradesh plans to fund the program through the issue of bonds. "While it may not add to the headline fiscal deficit directly, the liability will remain," said Sonal Verma, a Singapore-based economist at Nomura Holdings Inc. and her colleague Neha Saraf. "The farm loan waiver scheme could put pressure on other states to follow suit."
Outstanding countrywide agricultural loans as of Sept. 30 were at 12.6 trillion rupees, as farmers struggled with a decrease in land holdings, deteriorating soil quality, high input costs and low prices for their produce.
Before it's here, it's on the Bloomberg Terminal.
LEARN MORE