markets
Five Things You Need to Know to Start Your Day
Get caught up on what's moving markets in Asia.
By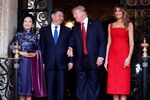 Want to receive this post in your inbox every morning? Sign up here.
Trump and Xi meet, crude oil hits a one-month high, and Wall Street isn't buying the U.S. president's pledge to break up banks. Here are some of the things people in markets are talking about today.
Nice to See You
The leaders of the two largest economies in the world meet on Thursday as China's Xi Jinping visits Trump in Florida. Geopolitical tensions surrounding Syria have ratcheted up after a poison gas attack, but Trump may look to shift the focus to China's relationship with North Korea in light of the latter's nuclear ambitions. Financial markets, meanwhile, will be keying in on any headlines related to trade, as Trump's rhetoric on China's practices has been fierce. Chinese large-cap stocks, the Mexican peso, and U.S. retailers will be closely watched as proxies for any brewing protectionism.
Markets Meander
U.S. stocks closed slightly higher on Thursday as rising yields buoyed shares of financial institutions. Crude oil hit a one-month high, with front-month West Texas Intermediate futures settling at $51.70 per barrel. Energy stocks also helped fuel the gains in benchmark indexes. The U.S. dollar was among the best-performing G10 currencies, declining against only the New Zealand kiwi and Canadian loonie.
Big Banks to Stay Big
Wall Street isn't buying the Trump administration's plan to separate commercial and investment banks. A bevy of analysts say it's unlikely that Glass-Steagall, which was repealed in 1999, will be reinstated, as Congress won't prioritize the issue. Former Goldman Sachs Group Inc. COO and current White House economic adviser Gary Cohn reportedly expressed support for measures that would detach these banking operations, potentially forcing some of the nation's largest financial institutions to split into pieces. The Financial Select Sector SPDR Fund rose 0.6 percent on the session.
Japanese Data on Deck
Key to the success of Abenomics is a revitalization of Japanese wage growth. We'll get an update on that at 9:00 a.m. Tokyo time with the release of labor cash earnings for February, expected to match the previous month's 0.5 percent expansion rate. Indexes that track leading and coincident economic indicators are slated to be released at 2:00 p.m., with the former expected to retreat modestly while the latter ticks up marginally.
Futures Up
Nikkei 225 and S&P/ASX 200 equity futures are in positive territory as of 6:20 a.m. after Asian stocks followed their American peers lower during the previous session. The Japanese yen was essentially flat versus the U.S. dollar on Thursday. Indian stocks will also be in focus after the S&P BSE Sensex pared most of its losses following an unexpected hike in the reverse repo rate by the Reserve Bank of India, which kept its benchmark rate unchanged.
What we've been reading 
This is what caught our eye over the last 24 hours.
Before it's here, it's on the Bloomberg Terminal.
LEARN MORE