Democrats Take on Trump by Pouring Cash Into Georgia Race
By and
Experts question fundraising prospects for 2018 elections

Long-shot campaign says it set a quarterly fundraising record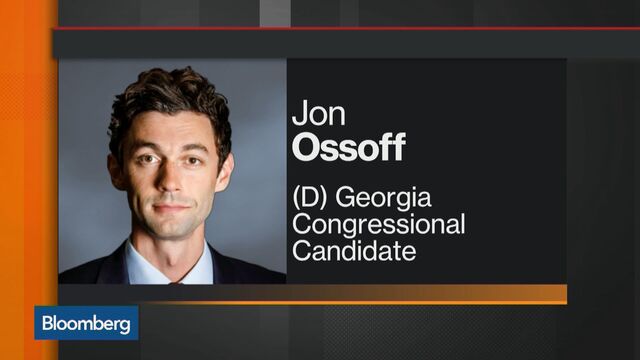 Donors from across the U.S. have poured more than $8 million into a Georgia Democrat's long-shot bid for a suburban Atlanta congressional seat, reflecting liberals' frustration with Republican President Donald Trump's election.
The fundraising bonanza has buoyed Democrat Jon Ossoff, a 30-year-old former congressional aide who hopes to win the seat -- long held by Republicans -- in a special election on April 18. Still, political experts question whether his swelling campaign kitty foreshadows larger success for Democrats in next year's congressional races.
"Special elections take on a sort of out-sized significance because they're the only thing that's going on," said Robert Boatright, a political science professor at Clark University in Worcester, Massachusetts.
Ossoff's campaign disclosed raising $8.3 million to the Federal Election Commission from Jan. 3 through March 29, a total it called a quarterly record for a congressional campaign that isn't self-financed by a candidate. About $7.7 million of the total were online donations, driven in large part by DailyKos, the progressive news and activism site.
Trump's Margin
The special election will fill a seat once held by former Republican House Speaker Newt Gingrich, and more recently by Tom Price, the physician whom Trump appointed to head the U.S. Department of Health and Human Services. Democrats see the district as vulnerable because its well-educated and upper-income electorate gave only mild support to Trump. Price won it by 23 percentage points in November; Trump's margin was fewer than two percentage points, according to data compiled by Bloomberg.
Both major parties are portraying the race as a harbinger for next year's midterm elections, when Democrats need to flip 25 seats to take over the House. But political experts are divided on its significance.
Boatright said that while activist groups are good at "rallying support behind a small number of candidates," Democrats will need to be competitive in too many races in 2018 to have a similar impact.
"The more candidates you have, the more money gets spread out," he said.
Michael Malbin, executive director of the nonpartisan Campaign Finance Institute, disagreed. "What $8.3 million says to a potential candidate is that money is out there and there's a pool of donors who really care about which party controls the chamber," he said. That could make it easier for Democrats to recruit attractive candidates, he said.
Challengers' Money
Challengers who beat incumbent House members in 2016 raised an average of $2.7 million, a more reachable sum, said Malbin, whose organization studies campaign fundraising in federal and state elections. "It's still going to be hard to beat 25 incumbents, but if there's any realistic possibility, yes, I see the money being there."
Ossoff's chance of victory remains a bit of a long shot. Eighteen candidates, including 11 Republicans and five Democrats qualified for the ballot. If no one secures more than half the vote, the top two finishers will go to a runoff on June 20. If the race goes to that second round, a Republican would be favored in the right-leaning district.
A poll commissioned by the liberal group MoveOn.org Political Action put Ossoff's support at 40 percent, still short of the majority he'd need. No other Democrat got more than 1 percent. The top Republican candidate, former Georgia Secretary of State Karen Handel, was at 18 percent in the same survey.
Handel's campaign said it had raised $463,000. Ending Spending, a political nonprofit funded by billionaire Joe Ricketts, disclosed to the FEC Friday that it had just purchased $500,000 in television air time to back her.
Television Ads
Through Monday, Ossoff had been by far the biggest television advertiser in the race, spending an estimated $2.5 million, according to data from Kantar Media's CMAG, which tracks political advertising. The campaign said it still has $2.1 million in the bank.
Liberal groups have gotten involved in the race in other ways. Planned Parenthood Action Fund, the group's advocacy arm, has spent $152,257 on Ossoff's behalf for direct mail and canvassing, according to an FEC disclosure.
The National Republican Congressional Committee has countered with $1.6 million -- largely devoted to digital advertising that attacks Ossoff. Similarly, the Congressional Leadership Fund, a super-PAC endorsed by House Republican leadership, has spent $2.5 million. The total could include ads that have yet to run.
The money pouring into Ossoff's campaign may reflect a broader trend in the wake of Trump's surprise election, said Kay Schlozman, a political science professor at Boston College. "All kinds of causes on the blue side of the continuum have raised a lot of money," she said, noting that the American Civil Liberties Union and Planned Parenthood both have reported fundraising spikes.
But Democrats face disadvantages in the 2018 election, she said, including lower turnout rates from the party's base and 10 incumbent Senators up for re-election in states Trump won. In that context, determining what Ossoff's fundraising success means for 2018 is "a much more ambiguous question," she said.
— With assistance by Gregory Giroux
Before it's here, it's on the Bloomberg Terminal.
LEARN MORE