Billionaire Pritzker Joins Illinois Governor Race
By and
Governor's contest could be one of most expensive in history

Illinois is in crisis with no budget, record bill backlog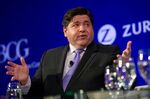 Jay Robert "J.B." Pritzker, the billionaire heir to the Hyatt hotel empire, declared his candidacy for Illinois governor on Thursday, vowing to save the worst-rated state from its escalating fiscal crisis.

Pritzker, the brother of former U.S. Commerce Secretary Penny Pritzker, is an investor and philanthropist with an estimated net worth of $3.5 billion, according to the Bloomberg Billionaires Index. He joins other Democrats including Chris Kennedy, son of Robert F. Kennedy, who want to challenge incumbent Bruce Rauner, whose term has been marked by a prolonged stalemate with the Democrat-controlled legislature.
"What's happening now in Springfield is offensive to our values and who we are as a state," Pritzker, 52, said in a statement on his campaign website. "Bruce Rauner's failure as governor isn't just about numbers, it's creating real damage every day to people across Illinois."
The race could be one of the most expensive governor's contests in history as Rauner, a former private-equity executive, Kennedy and Pritzker have all pledged to draw from their personal fortunes to fund their campaigns. Political contributions in Illinois are virtually unlimited in cases where candidates self-fund, and Rauner already put $50 million of his own wealth into his re-election account late last year.
The contest comes as the state is locked in a downward financial spiral because of an unprecedented gridlock between Rauner, who took office in January 2015, and Democratic lawmakers who can't agree on how to close the state's chronic budget deficit. The state has been without a budget for more than 21 months and has a $13 billion backlog of unpaid bills.
Rauner, Illinois's first Republican governor since 2003, wants any solution to include parts of his agenda like curbs on property taxes and unions, measures that Democrats have resoundingly rejected.

The clash has sunk Illinois's credit rating to the lowest among U.S. states and led to cuts in social services, higher education and other programs. The state is at a "critical juncture" and may face more downgrades without a fix, Moody's Investors Service said in a March 30 report. Moody's rates Illinois Baa2, just two steps above junk.

Because of the financial strain, investors are demanding higher yields to own debt issued by Illinois. The state's 10-year yields have soared to 4.46 percent, or about 2.2 percentage points more than benchmark tax-exempt debt, according to Bloomberg's indexes. That's the highest of the 20 states tracked by Bloomberg.
In addition to Kennedy, Pritzker is likely to face State Senator Daniel Biss, Chicago Alderman Ameya Pawar and regional schools superintendent Bob Daiber in the March 2018 primary, among others.
Before it's here, it's on the Bloomberg Terminal.
LEARN MORE