Watch These Assets for Clues on Trade Policy as Trump Meets Xi
By
Mexican Peso, iShares China ETF, retail stocks are harbingers

All have shrugged off election shock and are near year highs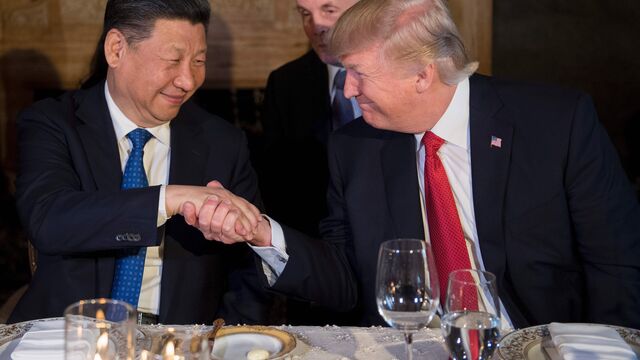 Investors have grown skeptical that there's any bite behind the Trump administration's barking about lopsided trade agreements. Their conviction's about to be tested as the president gets a chance to confront his Chinese counterpart Thursday.
A trio of assets that swooned after Donald Trump's surprise election on speculation that he'd rush to reorder global trade have since snapped back as the administration's talk softened. Those trades -- in the biggest exchange-traded fund tracking Chinese assets, the Mexican peso, and U.S. retail stocks -- could reverse again as Donald Trump sits down with Xi Jinping.
"The probability of U.S. protectionism is rising," said Skandinaviska Enskilda Banken AB economist Andreas Johnson in a note to clients Thursday. "The risk of a decline in support among Trump's core voters following his failure to make good on election promises creates an incentive to launch trade measures against China, possibly in 2018, ahead of midterm elections in early November."
Read More: China Market Access in Spotlight as First Trump-Xi Meeting Nears
China ETF Rising

Despite Trump's rhetoric that China manipulates its currency and benefits from unfair trade, U.S. investors haven't soured on assets from the world's second-largest economy. The iShares China Large-Cap ETF tumbled almost 10 percent in the six weeks following the election before surging 14 percent as of 2:43 p.m. in New York.
Worst to First

The Mexican peso's borne the brunt of angst that a Trump win would damage trade policy. The currency weakened nearly 20 percent from the election to the day before the inauguration. It has since appreciated by almost 15 percent as talk of a hefty tariff turned into measured discussions about renegotiating the Nafta trade agreement. 
While Mexico may not come up in Trump's discussions with Xi, China has moved to tighten its ties to Mexico in recent years. Commerce Secretary Wilbur Ross said in March the "real" negotiations to revamp Nafta won't happen until later this year.
Import Tax

Trump's efforts to reinvigorate American manufacturing, presumably at the expense of China, have included talk that Congress might push for a border adjustment tax. Goldman Sachs Group Inc. said in mid-February that U.S. retailers have the "most to lose." Wal-Mart Stores Inc. and other businesses that rely on overseas manufacturing, including in China, have opposed the idea. The sector's been rising since Trump's election on speculation lower taxes will encourage consumers to step up discretionary spending.
Before it's here, it's on the Bloomberg Terminal.
LEARN MORE