Your Evening Briefing
Here are today's top stories
Bloomberg News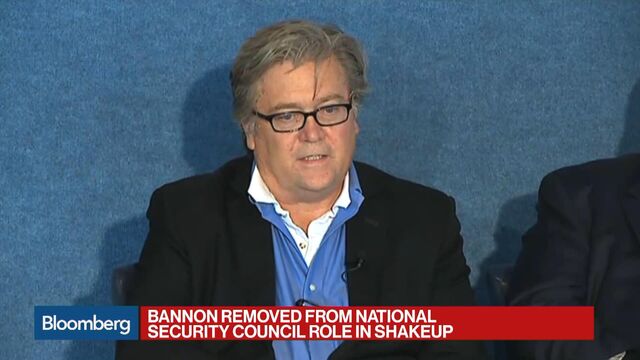 Want to receive this post in your inbox every afternoon? Sign up here.

The ousting of Steve Bannon, President Trump's chief strategist and the godfather of the ultra-right, from a key role on the National Security Council will help to mollify critics concerned about the politicizing of foreign policy. The staff shuffle gives more authority to H.R. McMaster, who took over as national security adviser after Michael Flynn's notoriously short tenure. But White House sources were quick to say Bannon, one of Trump's most trusted aides, isn't going anywhere — and will retain top security clearance. – Katie Robertson
Trump has reorganized his National Security Council, removing chief strategist Bannon from a key committee and restoring the roles of top intelligence and defense officials. A White House official told Bloomberg that Bannon was placed on the committee in part to monitor the now-fired Flynn, and painted his removal as a natural progression rather than a demotion.
When Trump meets China's Xi Jinping. The two presidents will meet for the first time on Thursday at Trump's Mar-a-Lago resort in Florida. Between them, they oversee about one-third of the world's economy, so whether their negotiating teams set a path toward cooperation or confrontation carries huge consequences. Here's a look at the men (and they are all men) shaping decisions during discussions about trade policies and security issues. And maybe American beef.

What went wrong with Pepsi's Kendall Jenner ad? Pepsi's latest commercial has been slammed on social media for its tone-deaf exploitation of the Black Lives Matter movement. It's a cautionary tale about relying on an in-house advertising team.

This woman fights the scammers after your parents' money. U.S. Bank's Wendy Johnson has been investigating suspicions of financial abuse of the elderly for the past six years. She tells Bloomberg about dating scams, social media ploys, and the most egregious fraud case she's ever seen.
Doctors earn less if they're women or minorities. While physicians earn six-figure salaries, the gender and race wage gaps within the profession are egregious, about twice the national average in some instances. A new report points to the considerably fewer women in specialist fields as one of the reasons for the discrepancy.

Amazon's robot war is spreading. A slew of new automation specialists are appearing on the warehouse battlefield, after Amazon's 2012 acquisition of Kiva triggered a robot arms race. One to watch is Locus Robotics. They just landed a big fish: selling robots to DHL Supply Chain, which will use the machines to help ship surgical devices to operating rooms across the country.
These are the world's 50 best restaurants. An American restaurant has triumphed in the annual World's 50 Best Restaurants awards for the first time since 2004. New York's Eleven Madison Park, which currently has a $295 11-course tasting menu, scored the the No 1. spot, toppling Italy's Osteria Francescana. No doubt this will make it that much harder to get a reservation at the Flatiron hotspot.
Before it's here, it's on the Bloomberg Terminal.
LEARN MORE