Your Evening Briefing
Bloomberg News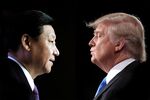 The evening briefing will soon be available in your inbox every day. To be among the first to get it, sign up here. 
When Donald Trump and Xi Jinping face off at their summit in Florida, the presidents will come armed with their dealmaking teams. In the U.S. corner is a largely untested group of self-professed nationalists and officials skeptical of free trade. On the Chinese side are career Communist Party officials willing to push back against U.S. dominance, especially in Asia. Here's a closer look at some of the men (and yes,they're all men) shaping the decisions of both nations . —Kristine Servando
Cathay's poison is Qantas's tonic. A flood of cheap airfares from rival Chinese airlines is undoing Hong Kong's Cathay Pacific, but it's doing the opposite for Qantas. Cut-price tickets are allowing Chinese travelers to go further afield, and in Australia Qantas is waiting to ferry them on its local network.
"It is clear that something is wrong" with the U.S. That's the stark warning from JPMorgan CEO Jamie Dimon, leader of the world's most-valuable bank and counselor to President Donald Trump. After using his annual letter to shareholders to list ways that America is stronger than ever, he then launched into a much longer list of self-inflicted problems that he said was "upsetting" to write.
The rise and 90-minute fall of a Chinese tycoon. It took more than a decade for Yang Kai to amass one of China's most-celebrated dairy fortunes. He may have lost it in less than 90 minutes. A series of remarkable events in the past two weeks have laid bare China Huishan Dairy's money troubles and left chairman Yang battling for the firm's survival.
Sick of living in limbo. Tired from months of wondering whether their jobs will be moved or cut as Brexit bites, foreign employees at some of London's biggest banks are asking to be sent back home. Staff at Citigroup, Goldman Sachs and HSBC have volunteered to return to their countries inside the EU should their employers need to relocate staff after Brexit.
Welcome to zombie land. Japan recorded a rare corporate feat in the fiscal year that ended last week: not one of almost 4,000 publicly traded firms filed for bankruptcy. Prime Minister Shinzo Abe touts fewer business failures as an economic success, but critics say too-easy credit is keeping "zombie" firms alive, worsening labor shortages and leaving no room for new businesses.
Is the F-35 a trillion-dollar mistake? Despite the multimillion-dollar discount from Lockheed that Trump credits to his lobbying efforts, the plane is on its way to becoming the priciest military procurement in U.S. history. But Trump's self-congratulation serves as a distraction from the larger issue troubling America's warplane of the future: its performance. There are concerns that the fighter jet might be vulnerable to hackers.
A rare pink diamond just sold for a record $71 million. Hong Kong jeweler Chow Tai Fook bought the 59.6 carat, oval-shaped Pink Star from Sotheby's, setting the world's top auction price for any gem. In a quirk of auction history, it sold for $12 million lower than the $83 million offer Sotheby's adjudicated it for in 2013. That sale collapsed because the buyer never paid, and the auction house reclaimed the stone.

Before it's here, it's on the Bloomberg Terminal.
LEARN MORE