Trump Warns Syria Poison Gas Attack Goes 'Beyond Red Lines'
By and
Russia rejects resolution demanding UN access to airfields

Strike may be worst chemical attack in Syria since 2013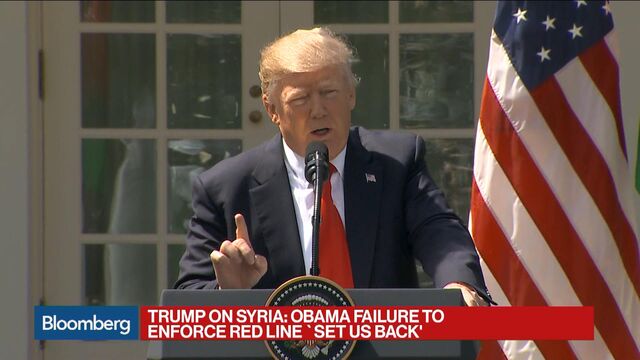 President Donald Trump said an apparent poison gas attack in Syria that killed more than 70 people has changed his thinking on the civil war, as the U.S. signaled it could take action against the Syrian government as well as targeting Islamic State strongholds in the country.
Asked Wednesday if the gas attack crossed a "red line," Trump said it "crossed a lot of lines for me. That crosses many, many lines, beyond red lines." Standing alongside King Abdullah II of Jordan at the White House, he called the incident "an affront to humanity. These heinous actions by the Assad regime cannot be tolerated."
The attack on Tuesday in the northwestern province of Idlib bore the signs of illegal chemical weapons use, according to human rights groups. That puts the Trump administration in a bind. If chemical arms were used by Assad's military, it would mean Syria violated a deal to destroy such weapons, an accord brokered by the Obama administration and Russia after an August 2013 sarin gas attack killed more than 1,000 people in a Damascus suburb.
As a private citizen at the time, Trump slammed proponents of military action against the Syrian government, saying the U.S. should "stay away" from the crisis.
"What will we get for bombing Syria besides more debt and a possible long-term conflict," Trump said on Twitter Aug. 29, 2013. Five days later he wrote, "What I am saying is stay out of Syria."
'My Responsibility'
On Wednesday, Trump said the latest attack had changed his views on the six-year civil war.
"It is now my responsibility" to respond, he said. "My attitude toward Syria and Assad has changed very much."
At the UN Security Council an hour earlier, U.S. Ambassador Nikki Haley stood at her desk to show diplomats photos of dying children gasping for air. She accused Russia, which backs Syrian President Bashar al-Assad, of pushing a "false narrative" that blames rebel forces for the attack, and issued a new warning.
"When the United Nations consistently fails in its duty to act collectively, there are times in the life of states that we are compelled to take our own actions," Haley said. A draft resolution calls on Syria to provide UN investigators information about operations on April 4, including the names of commanders of helicopter squadrons. It also demands UN access to Syrian air bases.
Read more: A QuickTake explainer on the fight against chemical weapons
Russia, which has vetoed seven previous Security Council resolutions critical of Syria, blamed Tuesday's attack on rebels, saying that the Syrian air force hit an ammunition depot where chemical weapons were stored. Russia's Foreign Ministry said the current resolution was "categorically unacceptable."
Russian Foreign Minister Sergei Lavrov held phone talks with his Syrian counterpart, Walid al-Muallem, late Wednesday, to discuss the crisis, according to a ministry statement.
'Limited and Risky'
As disturbing as they were, the images from Syria were little different from scenes that have been repeated year after year as the Syrian war has ground on. And they present Trump with the same dilemma his predecessor faced: commit to military action or hold back and accept the fact that Assad, whose forces have gained ground since Russia intervened on his behalf in 2015, will be very difficult to dislodge.
"At the end of the day choices for Trump are extremely limited and risky," said Fawaz Gerges, a professor of international relations at the London School of Economics. "Rhetoric aside, any kind of military move may trigger a confrontation with Russia."
The latest developments may also increase the pressure on Russia, which argued for the 2013 chemical weapons deal as it sought to stave off U.S. intervention in Syria.
Russian diplomats submitted their own draft resolution regarding an investigation into Tuesday's attack, Interfax reported. It called for a "real investigation instead of appointing the guilty ones before the facts have been determined," the Russian news agency reported, citing a spokesman for the country's UN delegation.
Islamic State
Trump's reference to a "red line" echoed comments then-President Barack Obama made before the 2013 sarin attack, when he suggested the use of chemical weapons would require a U.S. military response. He failed to follow up on that vow, a move that many foreign policy experts say emboldened Assad and Moscow.
Trump, who has said destroying Islamic State is his top priority, has boosted the number of U.S. special forces in Syria, but it isn't clear how much further the administration would be willing to go given the Russian military presence. Rebels fighting to oust the Syrian president have received support from the U.S. and its allies, but opposition to the regime has increasingly been dominated by jihadist groups including al-Qaeda.
'Assad Must Go'
While Obama said "Assad must go" in 2011, statements by Trump and Secretary of State Rex Tillerson in the days before Tuesday's attack suggested the administration was resigned to seeing the Syrian leader remain in power. Yet the severity of Tuesday's assault fueled renewed calls from Western officials for Assad to step down. The Syrian war has killed an estimated 400,000 people and sent millions more fleeing.
"If proven that the regime was behind this, it demonstrates once again the barbarity of Assad and the requirement that he must go," U.K. Ambassador to the UN Matthew Rycroft told reporters outside the Security Council. "He cannot be the person who unifies Syria after this war."
Turkey's European Union Minister Omer Celik, whose country has been among the most forceful in calling for Assad to go, said from the southern city of Adana on Wednesday that the war was a test for humanity and that "success in this test depends on whether Assad remains in place."
— With assistance by Dana Khraiche, Jennifer Epstein, and Ilya Khrennikov
Before it's here, it's on the Bloomberg Terminal.
LEARN MORE