Real Estate
Toronto Home Prices Just Jumped Another 33%
By and
Average detached downtown home now fetches C$1.56 million

Mayor acknowledges frustration among young home buyers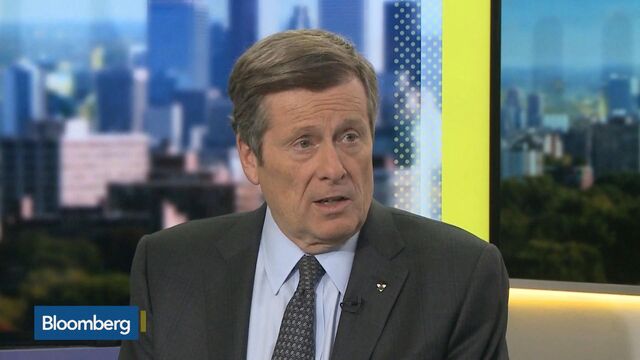 Toronto's housing market showed no signs of cooling last month, with the average sale price soaring the most in almost three decades as the cost of a detached downtown home climbed to nearly C$1.6 million ($1.2 million).
Prices increased by a third in every major housing category, including townhouses and condominiums, amid intense competition among buyers, according to figures from the Toronto Real Estate Board. More people opted to put their homes on the market in March as new listings rose 15 percent to 17,051, after a drop in February. Still, the gap between listings and sales underscores a tight market, with supply and demand out of sync, the trade group said in a statement.
"A lot of people are just choosing not to list their homes for sale despite the strong equity gains they've experienced over the last two to three years," Jason Mercer, head of market analysis at the real estate board, said in an interview Wednesday. "You don't know if you can find a new home that meets your needs in the area that are you looking."
The soaring prices and limited supply are sparking debate among policymakers on how to ensure there is enough affordable housing while trying to avoid a market crash. Options under consideration by the city and province of Ontario include a new tax on foreign buyers or a tariff on vacant homes to curb speculation.
"I have a deep concern about the frustration that must be faced by young homebuyers trying to get in this market and just by people trying to move up in their housing," Toronto Mayor John Tory told Bloomberg TV Canada in an interview on Tuesday.
The average home price in the Toronto area rose to a record C$916,567 last month, from C$688,011 a year earlier. Unit sales jumped 18 percent to 12,077, the board said in the statement.

Double-digit price growth will "certainly" continue through the end of the year, assuming there's no government intervention, said Dianne Usher, a senior vice president at Johnston & Daniel, a division of Royal LePage, Canada's biggest provider of real estate services. "We are already seeing evidence of that in April in a very big way."
Toronto's rapid growth rate isn't sustainable, but the market should be allowed to "find itself" as opposed to being influenced by government meddling through new taxes or other means that are likely to spur "long-term negative effects," Usher said.
Tory said there's no consensus yet on "the nature of the forces that are pushing the prices up the way they are" and what is best to do about it.
The 33 percent price increase last month marks the largest rise since February 1989, when year-over-year growth reached 34 percent, according to Mercer. A "substantial period of months in which listings growth is greater than sales growth" will be needed to bring the Toronto housing market "back into balance," he said.
One thing for certain is that Toronto is suffering from an inadequate supply of housing, Tory said, adding that the city is taking steps to help address the matter and speed up the availability of affordable homes.
Toronto Real Estate Board President Larry Cerqua said it's encouraging that government officials haven't introduced any "knee-jerk" housing policies.
"Policy makers must remember that it is the interplay between the demand for and supply of listings that influences price growth," Cerqua said in a statement.
Low Inventory
The Toronto Real Estate Board is among opponents of the idea of implementing a foreign buyers tax to curb price gains and discourage speculation. The group says the real problem is a dearth of housing inventory.
Tory also has questioned the potential effectiveness of a foreign buyers levy. So far, there aren't reliable figures on the number of non-Canadian real-estate investors in the market.
"I don't know how you can make a decision on a huge public policy matter that can have an impact on the marketplace without having that data," Tory said in an interview Tuesday at Bloomberg's Toronto office.
Tory is more open to calls for a tax on vacant properties, saying he's "willing to explore" the idea as a way to make more homes available for actual residents as opposed to sitting empty.
A vacancy tax probably would need approval from Ontario, he said. It's also not yet clear exactly how the measure would work or who would impose the levy, according to Tory.
"I'm convinced that we could find a way to do it if we felt it was going to be
effective," he said while acknowledging that it's not clear how many empty homes are in the region.
Usher said Toronto doesn't have many properties sitting vacant and a tax on empty homes would be ineffective.
While Usher is wary of possible new measures aimed at taming the market, Bank of Nova Scotia's Canadian banking head James O'Sullivan said governments may have to intervene in if prices remain "overheated."
Toronto's market is of prime concern because of unsustainable and unhealthy price increases, he told reporters Tuesday after Scotiabank's annual meeting. He'd like to see how home sales play out between April and June before pushing for further measures.
A foreign-buyers tax, such as the one British Columbia imposed last year to cool Vancouver's housing market, and a speculation levy should be "on the table," he said.
Before it's here, it's on the Bloomberg Terminal.
LEARN MORE