Stand-Up Paddleboarding (aka Surfing for the Lazy)
It's as easy as it looks.
By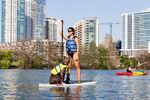 What is it?
Exactly what it sounds like: You stand up on a board and paddle around. Part of what makes paddleboarding so fun is that it's not that hard. The boards are longer and wider than the ones for surfing, so they're more stable. Sure, you may be a little wobbly at first, and beginners should steer clear of big waves. But for most people, a mellow float across a placid lake should be more than doable on Day One.
 
What stuff will I need?
For first-timers, all you'll need is a bathing suit and some sunscreen—you should be able to rent everything else from your local sail/canoe/surf shop for $25 per hour, give or take. If you want to make paddleboarding a habit, however, consider buying your own gear.
 
The board
There are three main types:
Foam: Versatile and sturdy, and you won't have to dip into your kids' college fund to afford one. Try California Board Co.'s 10'6" board ($550; keepersportsstore.com).
Inflatable: These are great if storage is an issue. Look for ones that pump up tight (15 to 25 pounds per square inch) for maximum stability. We like Waterman's 10'9" BK Pro ($1,199; c4waterman.com).
Wood or fiberglass: The flashy stuff, best for tackling bigger waves or longer excursions. Go for Three Brothers Boards' 11'4" Irish Twin ($1,249; threebrothersboards.com).
 
Make sure to note the weight capacity, typically specified by the manufacturer, which will vary depending on the material, dimensions, and shape of your board. If you're too big for your board, you'll ride too low in the water, making it tough to move around.
 
The paddle
Some boards come with a paddle—and sometimes with a leash, a fin, and a roof rack as a package deal, so pay attention when you're buying. If you're purchasing a paddle separately, aluminum or alloy is fine (Red Paddle Co.alloy, $140; redpaddleco.com), carbon fiber is better (Aqua-Bound Malta,$325; aquabound.com), and wood is way cool (Shaw and Tenney SUP, from $429; shawandtenney.com).
 
The other stuff
Personal flotation device: This doesn't have to be the bulky straitjacket you recall from childhood trips to the lake. The Dakine Waistbelt PFD ($100; dakine.com) clips on like a fanny pack.
 
Leash: If—or, let's face it, when—you fall, this will keep your board from shooting away and hitting an innocent bystander. Most board manufacturers offer some variety of leash, starting around $20.
 
Roof rack: Have board, will travel with the Thule SUP Taxi ($270; thule.com).
 
Sunglasses: These are essential—glare can get intense out on the water. You'll want a pair that's OK getting wet, such as the Oakley Flak 2.0 XL ($150; oakley.com) or the more stylish Smith Drake ($219; smithoptics.com).
 
Where can I do it?
 
Bend, Ore.
Located on the southwestern edge of this outdoor-sports-crazy town, the elegant Tetherow resort offers easy access to the mountain lakes of Willamette National Forest, the Deschutes River, and a man-made whitewater park if you want to try your luck with some waves (from $179 per night; tetherow.com).
 
Sausalito, Calif.
The upscale-but-unpretentious Cavallo Point hotel offers easy access to Richardson Bay, off San Francisco Bay. Paddle among the houseboats, say hi to the sea lions, or cruise across to Tiburon for lunch at one of its bay-view restaurants (from $379 per night; cavallopoint.com).
 
Chicago
The chic Hotel Lincoln is perched on the western edge of Lincoln Park, just a short stroll from the shores of Lake Michigan, where the paddleboarding is plentiful (from $159 per night; jdvhotels.com).
 
Kohala, Hawaii
The Fairmont Orchid is tucked into quiet Mauna Lani Bay on the Big Island's northwestern coast. It has sheltered waters for first-timers and access to the open sea for those who feel more confident (from $299 per night; fairmont.com).
 
Austin
Lady Bird Lake, smack in the middle of the city, is a favorite paddleboarding spot for Austinites. South Congress Hotel is in the heart of the nearby SoCo neighborhood, just south of the lake, and is a perfect spot for post-float people-watching (from $249 per night; southcongresshotel.com).
 
Burlington, Vt.
The view from the Hotel Vermont, on the shore of Lake Champlain, can't be beat. Just a 15-minute drive south, Oakledge Park is an ideal jumping-off point for an expedition (from $199 per night; hotelvt.com).
 
Naples, Fla.
Naples Beach Hotel & Golf Club should suffice. Weave in and around Inner Doctors Bay or out into the Gulf of Mexico. Paddling south to Naples Pier and back is a great four-mile round trip (from $319 per night; naplesbeachhotel.com).
 
How many people actually do it?
0.9 million in 2009, 2.8 million in 2014.
Source: The Outdoor Foundation
 
How can I make sure I don't look like an idiot?
Keeping stable on the board is all about using your core muscles, so think about doing some Pilates before you get out there, or at least banging out a few crunches. Once you're on the water, get yourself situated in the center of the board, sitting with one leg on either side and your paddle laid perpendicularly in front of you. Now get on your knees: If you're feeling tentative, paddle around like that for a while just to get the hang of it. To stand, push up slowly against the board while gripping the paddle. You'll want your feet roughly shoulder-width apart, and your knees should remain slightly bent. Stay loose. Place your dominant hand on the top of the paddle's shaft, with your other hand about halfway down—you want the curve of the paddle face bending toward the front of your board. Now stroke! And unless you're one of those people who likes to be rescued, pay attention to the wind and the current, and stick close to shore.
Before it's here, it's on the Bloomberg Terminal.
LEARN MORE