Serbs Protest Against 'Dictatorship' After Vucic Elected
By and
Students, citizens protest in Belgrade, Nis, Novi Sad

Organizers say they have no political affiliation, experience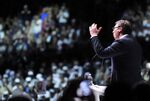 Serbian President-elect Aleksandar Vucic will begin the task of picking a new prime minister to replace him as protests against his consolidation of power spread across the country and into Austria.
A demonstration against "Serbian dictatorship" will take place in Vienna, where a large Serb minority lives, on Saturday after thousands of students and pro-democracy activists marched peacefully through Belgrade and in at least a dozen other cities late Tuesday. Student gatherings that started during an official visit by Vucic to neighboring Bosnia are "fine" as long as there's no violence, the president-elect told reporters, according to Belgrade newspaper Blic.
The rallies began after Vucic, who's been premier since 2014, scored a landslide victory in Sunday's presidential election. Vucic, who has tried to both strengthen ties with Russia while seeking European Union membership, has drawn criticism for populist policies that have included influencing the media and rejecting Kosovo's independence. Students in Novi Sad, Serbia's second-largest city, called for officials of the state election commission to be replaced and said media had allowed "hundreds of violations" to happen during the vote.
"It's a reaction after long-simmering dissatisfaction and frustration," said Djordje Vukadinovic, an analyst at the Belgrade-based New Serbian Political Thought Institute. The protests "are full of energy and anger, and taking place in various parts of Serbia, something that opposition political parties have been unable to pull off in years."
Despite shifting to a more ceremonial position, Vucic, who served as the late Slobodan Milosevic's information minister in the 1990s and returned to government as deputy prime minister in 2012, can continue to hold sway over the government as the head of the ruling Serbian Progressive Party. Opposition leaders complain that he's suppressed their voices and marginalized media that doesn't portray him positively.
Vucic's leadership has also hurt Serbia's assessment by the Washington-based Freedom House, which said the country's "Democracy Score" had fallen to its lowest level since 2003.
"From Hungary and Poland to accession candidate Serbia, there are still no consequences for politicians and parties that undermine their countries' independent institutions," Freedom House said in an annual report.
Before it's here, it's on the Bloomberg Terminal.
LEARN MORE