Argentina Is Waging a Two-Front Economic Battle, Macri Says
By and
Argentina can both slow inflation and stimulate growth: Macri

Macri says economy starting to grow, reversing recession trend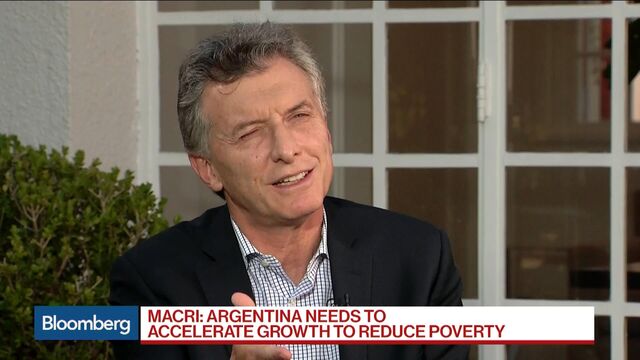 Argentine President Mauricio Macri says his government has no 'Plan B' for the economy and is confident he can slow inflation and stimulate growth at the same time ahead of mid-term elections in October.
"There's no Plan B. We have to do both things at the same time," Macri said in an interview at the presidential residence outside Buenos Aires. "There's no other way. With lower inflation you're defending the salary value of the worker," and that's my main commitment, he said.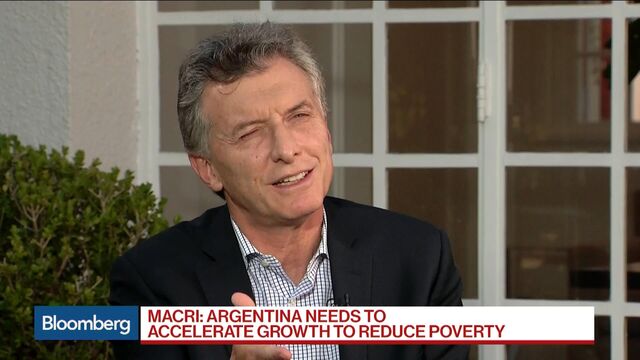 While the economy exited recession and consumer prices began to fall from a peak of 47 percent last year, Macri faces his first general strike as unions protest high inflation and broken promises to protect jobs. The strike comes on the first full day of the Latin American edition of World Economic Forum that's being hosted in Buenos Aires this year.
Inflation in Argentina began to slow toward the end of the year, posting the slowest second half since 2008. But it accelerated again in February to 2.5 percent from a month earlier and the central bank has maintained rates at 24.75 percent since November, citing mixed results in the inflation indicators it follows.
Watch more: for the full Macri interview click here.
A revision of gross domestic product statistics last month revealed that the economy emerged from recession in the third quarter with growth accelerating to 0.5 percent in the final three months of the year from the previous quarter. Still, economic activity contracted 0.5 percent in January from December, showing that the recovery remains weak.
Macri said that even though unions are protesting, many Argentines understand the changes he's trying to implement. Macri said it will take time to unwind the protectionist policies of his predecessors, Nestor Kirchner and Cristina Fernandez de Kirchner.
"You can't change 15 years in 15 months," Macri said. "If you want magic, you need to go to Las Vegas and see David Copperfield."
In October, Macri faces legislative elections in a test of popular support for the government's free-market policies. Macri said he would consider it a victory if he manages to increase seats in congress by 20 percent.
Venezuela Woes
Macri said that recent developments in Venezuela demonstrate that its president, Nicolas Maduro, is "absolutely" a dictator and Argentina is doing all it can through the Mercosur trade bloc to press for Venezuela to respect the independence of the country's institutions.
Hundreds of demonstrators in Venezuela clashed with security forces Tuesday as they rallied behind opposition lawmakers embroiled in a bitter dispute with Maduro's government.
"It's a dictatorship that doesn't respect any human rights," Macri said. "We have to keep battling in favor of our dear Venezuelans who are suffering the consequences of this disaster."
Macri said that in spite of U.S. President Donald Trump's protectionist stance on trade that he expects to improve Argentina and Mercosur's commercial ties with the U.S. Macri said he will meet Trump on April 27 at the White House for the first time since he was elected.
"We can focus first in the areas that are complimentary," Macri said.
Before it's here, it's on the Bloomberg Terminal.
LEARN MORE