How EU Holds Whip Hand Over U.K. as Brexit Trade Tensions Mount
By
Britain has much bigger incentive than Germany to do a deal

Within EU, Ireland, Netherlands and Belgium are most exposed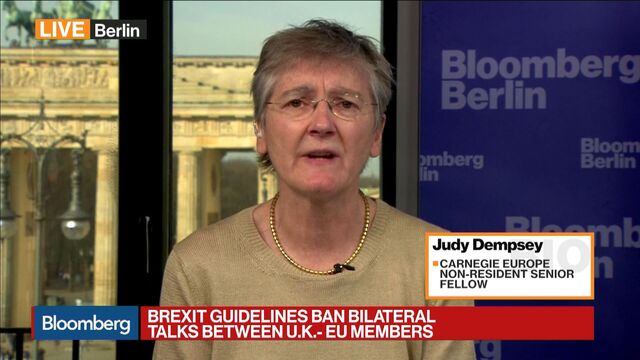 Follow @Brexit for all the latest news, and sign up to our daily Brexit Bulletin newsletter.
With Brexit negotiations nearing, the rhetoric is beginning to ratchet up.
In Strasbourg, France, the European Union's chief negotiator Michel Barnier on Wednesday rebuffed Prime Minister Theresa May's demand for a quick start to talks aimed at delivering a "bold and ambitious" free-trade agreement. U.K. Foreign Secretary Boris Johnson says the nation will "more than survive" without a deal.
So, with the stage set for two years of negotiations that promise to be unprecedented in their breadth and complexity, who holds the whip hand? And who has the most at stake in ensuring a deal is done?
Brexit supporters argue the EU has every reason to clinch an agreement because the bloc runs a surplus in goods with the U.K. -- a record 96 billion pounds ($120 billion) last year. Yet, looked at in terms of relative importance, the EU matters far more to the U.K. than vice versa.  
"The balance of power in that negotiation is much stronger on the EU side than it is on the U.K. side," said Guntram Wolff, director at the Brussels-based Bruegel think tank. "The British debate there is totally blind and often focuses very much on the surplus and deficit issue, and frankly speaking that's not the main variable. What counts for domestic voters is the total volume of exports; it's not the surpluses."
In dollar terms, almost 50 percent of U.K. exports go to the EU, according to International Monetary Fund figures. That's almost $200 billion annually. By contrast, only 6 percent of EU exports go to Britain. Germany buys 11 percent of U.K. exports, whereas the U.K. accounts for only 7 percent of German shipments.
If Britain does leave the EU without a trade deal, its exporters would be exposed to World Trade Organization tariffs after years of duty-free trade. John Kerr, the veteran diplomat who drafted the legal procedure for quitting the EU, puts the chance of a no-deal Brexit at more than 30 percent.

Within the EU, though, different agendas might be at play. Ireland, for example, wants future ties to remain as close to the current arrangements as possible, and it's easy to see why.
How Does U.K. Want to Trade With EU Post-Brexit?: QuickTake Q&A
While Irish dependence on its closest neighbor has lessened in recent years, the U.K. is still a key market. About 11 percent of Irish exports go to the U.K. The Dutch and Belgians also have much at stake, and Britain will want to appeal to such countries in its effort to secure a favorable deal. Yet, with only about 6 percent of French exports going to the U.K, the new French president, whoever he or she may be, can afford to take a harder line with the British.

Ultimately, though, it's probably in everybody's interests to get a deal done.
"If there is no agreement, the consequences will be heavy, for the United Kingdom especially, but also for the Union," Barnier told lawmakers in Strasbourg.
— With assistance by Jill Ward, and Nikos Chrysoloras
Before it's here, it's on the Bloomberg Terminal.
LEARN MORE