Gambler Got His Trading Ideas From Carl Icahn, Broker Says
By
Walters is accused of trading from tips from corporate insider

Walters's broker being questioned by U.S. in high-stakes trial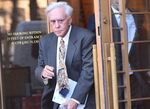 Las Vegas gambler Billy Walters is on trial for making about $43 million on secret tips from a corporate insider. But the final witness testified that Walters got most of his trading ideas from billionaire investor Carl Icahn.
Rob Miller, Walters's primary broker called by the defense for second day of testimony Wednesday, told jurors that the gambler was a savvy investor who carefully researched stocks and was willing to make high-risk trades for tens of millions of dollar.
Under questioning from the prosecution, Miller acknowledged that as many as 80 percent of Walters's investment ideas came from his friend Icahn, who isn't accused of wrongdoing.
"It may be, there's no science to it," Miller said, later adding, "I think that's fair." He added, "It ranges from 50 to 70 to 80 percent."
"Mr. Walters asked you to follow everything that Carl Icahn did?" prosecutor Daniel Goldman asked.
"Yes," responded Miller, a broker at Stifel Nicolaus & Co.
For more on Walters's defense, click here
Walters is accused of trading on inside information on Dean Foods Co. provided by Tom C. Davis, who was on the company's board of directors and later became its chairman in 2013.
Mounting Debts
Davis, who pleaded guilty and is cooperating with the government, testified that he passed nonpublic information to Walters for years, but began updating him about crucial developments after the gambler loaned him about $1 million to pay off mounting debts. 
The men spoke in person or using so-called burner telephones that Walters gave him, Davis said.
In her closing argument to the jury Wednesday, another prosecutor, Brooke Cucinella, called Davis the gambler's "man on the inside" and argued Walters's use of disposable phones was proof he was aware he was breaking the law.
"The defendant knew not only how valuable the information he had was, but how illegal it was," she said. "Through Tom Davis, Billy Walters had a seat in the Dean Foods board room."
She showed jurors charts outlining telephone calls between Davis and Walters that coincided with important developments at Dean Foods and the gambler's trades, highlighting how many of them were made just minutes after he hung up the phone with Davis or after getting a text message from him.
Call, Trade
Following a company board meeting in May 2012, Walters told his broker to buy 1.5 million Dean Foods shares three minutes after Davis called him. Walters would eventually make about $17.1 million ahead of a Dean Foods announcement it would spin off a lucrative unit that August.
The gambler also shared information with his friends, Cucinella said, pointing to evidence that golfer Phil Mickelson, who owed a gambling debt to Walters, earned about $931,000 trading on the same tip. Mickelson wasn't criminally charged and last year agreed to pay the SEC his earnings from that Dean Foods trade.
"When Walters knew he had a sure winner, he let his friends in on the action," Cucinella said. "We don't know if he told them the source of the information but we know Mickelson at least thought it was good enough to invest $2 million in Dean Foods stock -- some of it in his children's account."
Casinos, Prostitutes
Davis's credibility was assailed by defense lawyer Barry Berke, who called the government's star witness a liar willing to say anything about Walters to avoid prison. Berke showed jurors evidence that Davis lied repeatedly to investigators, embezzled money from Walters and stole about $100,000 from a charity that he spent on casino bills and on prostitutes.
"The government didn't chose Tom Davis as a witness, the defendant did," Cucinella said. "He knew Davis, who owed him money, was willing to break the law. That, ladies and gentlemen, is insider trading." 
Miller said Walters was his biggest client who generated the most revenue.
Miller was asked several times whether he ever verified whether the information Walters was getting from Icahn was publicly known, prompting U.S. District Judge P. Kevin Castel to order him to answer the question directly.
Miller conceded he told prosecutors during pre-trial interviews that he didn't verify whether some of the trading ideas Walters said came from Icahn were based on publicly available information. Later, under questioning by Walters's lawyer, Miller said the information about Icahn's trading was taken from publicly available regulatory filings.
Susan Gordon, a spokeswoman for Icahn, and Jonathan Streeter, a lawyer for the investor, didn't immediately respond to email messages seeking comment on the testimony. When prosecutors first raised the possible link to Icahn, Streeter said his client has never been accused of any wrongdoing.
The case is U.S. v. Walters, 16-cr-00338, U.S. District Court, Southern District of New York (Manhattan).
Before it's here, it's on the Bloomberg Terminal.
LEARN MORE