markets
Stocks Edge Up, Bonds Pare Drop as Caution Rises: Markets Wrap
By
Dollar erases Wednesday loss; koruna gains after cap is lifted

European shares trim slump; gold retreats as oil gains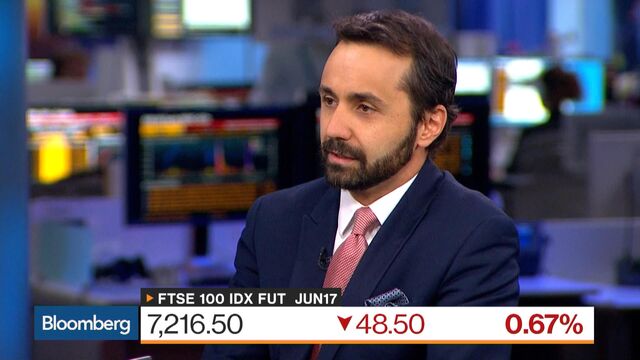 U.S. stocks ended higher after paring gains, Treasury losses eased and gold rose as a note of caution spread on financial markets with Donald Trump meeting his Chinese counterpart amid rising geopolitical tensions.
The S&P 500 Index edged higher as energy shares climbed after crude reached a one-month high. Treasury yields were little changed as an official said the Pentagon is actively weighing military options against Syria and Trump is meeting with Xi Jinping following a series of missile tests by North Korea's regime. The dollar rebounded after falling on the Federal Reserve's signal that it intends to shrink its balance sheet. Oil reached a one-month high.
Trades sparked by the Fed's talk about trimming its assets eased Thursday, as investors turned attention to Washington's response to the Syrian crisis at the same time Trump has the chance to confront the leader of a nation he blames for stealing millions of U.S. jobs and enabling North Korea's march toward a nuclear missile. Trump said to reporters on Air Force One that "something should happen" to Assad, and he is ready to act alone on North Korea.
Republican efforts to revamp health-care look stalled as Congress prepares to take a two-week recess, with investors looking ahead to Friday's jobs report for clues on the strength of the economy absent any boost from lower taxes and higher spending. 
Read our Markets Live blog here.
What investors will be looking out for:
Donald Trump and Xi begin two-day meeting in Florida today. Analyst roundup: Markets may shrug off Trump-Xi talks
Strong private payrolls data in the U.S. have bolstered the outlook for Friday's government jobs data, providing more evidence that hiring momentum is accelerating in the world's largest economy. 
After Draghi, ECB Governing Council members from Ireland and France speak Friday.
Here are the main moves in markets:
Stocks
The S&P 500 rose 0.2 percent to 2,357.50 at 4 p.m. in New York, paring a gain that reached 0.5 percent. The index dropped 0.3 percent yesterday, erasing an advance of more than 0.5 percent following the Fed's minutes.
Banks rose 0.6 percent, reversing a loss of the same amount sparked by comments from White House economic adviser Gary Cohn, who said he supports a policy that would separate consumer-lending businesses from investment banks.
The Stoxx Europe 600 Index rose 0.2 percent after closing little changed on Wednesday.
The MSCI Emerging Market Index slumped 0.7 percent, the most in a week.
Currencies 
The Bloomberg Dollar Spot Index added 0.2 percent following a 0.1 percent drop Wednesday.
The euro weakened 0.2 percent to $1.0644 while the yen was little changed at 110.791 per dollar.
The South African rand regained some ground after recent declines to trade 0.3 percent higher.
The koruna appreciated 1.1 percent to 26.75 against the euro after the Czech National Bank's board voted to exit a Swiss-inspired cap on Thursday.
Bonds
The yield on 10-year Treasuries was little changed at 2.34 percent, down from 2.39 percent at the end of last week. 
The Fed may find it difficult to minimize market volatility when it begins to slow the reinvestment of its balance sheet given the uneven maturities of its holdings.
Commodities
Crude advanced to a one-month high as investors weighed record U.S. stockpiles against OPEC-led efforts to reduce the global oversupply.
West Texas Intermediate crude futures rose 1.1 percent to settle at $51.70 a barrel, while Brent added 1 percent to end at $54.89.
Gold futures rose in advance of face-to-face meetings between U.S. and Chinese presidents that Donald Trump warned may be difficult. Bullion rose 0.4 percent to settle at $1,253.30 an ounce.
— With assistance by Elizabeth Dexheimer, Samuel Potter, Mark Shenk, Susanne Barton, and Alex Harris
Before it's here, it's on the Bloomberg Terminal.
LEARN MORE