China Bear Has Change of Heart on Bet for New Business Cycle
By
Nexus/RAM fund plans to increase Chinese bond holdings

Nexus manager Carl Wong upgrades China to market weight
It's time to stop being bearish on China.
That's the conclusion bond-fund manager Carl Wong has come to after being a "bad bear" on the country for 12 months. His Asia Bond Total Return Fund last month upgraded China to market weight from underweight on expectation the economy will start a new business cycle, helping corporate bonds to recover from financial tightening since late last year.
Wong, a senior money manager at Hong Kong-based Nexus Investment Advisors Ltd., which oversees $714 million, cites three reasons:
President's Xi Jinping's power consolidation will culminate this year, removing uncertainty over the leadership of state-run companies and allowing them to resume investments.
A revival in factory-gate inflation is restoring some of the pricing power of Chinese companies.
The central bank will refrain from raising interest rates as it walks a fine line between reducing leverage and preventing a cash crunch.
"This is like a Goldilocks period for China," says Wong, who manages the bond fund on behalf of Geneva-based RAM Active Investments SA. "You have a new growth phase, people are willing to invest money, inflation is very modest and people's sentiment is improving because of political stability."

The nation's 10-year government bond yield has dropped 6 basis points in the past month, while the onshore yuan has rebounded 0.7 percent this year against the dollar after posting a decline of 6.5 percent in 2016, the worst performance among 12 major currencies in Asia.
Dollar-denominated investment-grade bonds of Chinese companies, which last year posted the longest streak of monthly losses since at least the financial crisis, have turned around. They capped a 1.8 percent gain in the first quarter, according to a Bank of America Merrill Lynch index, signaling that the effect of the central bank's curbs on leverage remains limited. While the tightening measures continue, the People's Bank of China has also injected longer-term funds into the market and kept interest rates unchanged since 2015 to support growth.
Read more on the impact of China's financial tightening on bond yields
Wong says central-bank tightening isn't having a lasting impact on bond prices as the policy is targeted only at binge-borrowing, especially in the property market, and not at the wider economy.
"The rest of the economy is about to reflate."
Returning Inflation
The prices of goods when they leave the factory gates ended a 4-1/2-year deflation cycle in September and surged at the fastest pace since 2008 in February. Increasing demand, higher commodity prices and a weaker yuan are fueling the change, Wong says. Companies are now in a better position to reduce inventories, restart their capital expenditure and boost revenue, making their balance sheets more appealing to bond investors, he says.
"The companies finally become more capable of controlling prices, and make more money, make more free cash flows, and this is positive for credit," Wong says.
The $64 million bond fund, which invests in dollar-denominated securities, has about a third of its portfolio in China and plans to increase it further this year. It's trailing 80 percent of peers this year, even though its performance last month helped the fund reduce the underperformance to 32 percent of peers, according to data compiled by Bloomberg. Wong expects to bridge the gap further on the back of the renewed China focus, buying bonds in India's financial institutions and adding Middle Eastern securities tactically during oil-price increases.
Politics will be a key theme in China this year. The Communist Party's March meeting signaled President Xi's power-consolidation drive that started four years ago is about to end, Wong says. New candidates for key positions are already being identified and much of the uncertainty around the leadership of state-run enterprises has waned.
"When political stability is restored, it's time for the economy to restart a new capex cycle," he says. "It is time to make some money."
Watch Next: Mobius Says China Stocks Are Expensive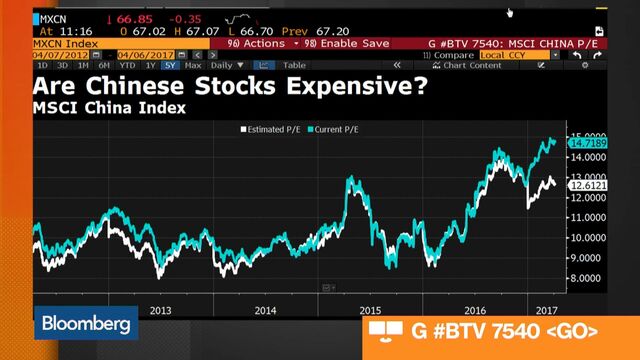 — With assistance by Yumi Teso
Before it's here, it's on the Bloomberg Terminal.
LEARN MORE