ADP Says Companies in U.S. Added 263,000 Employees in March
By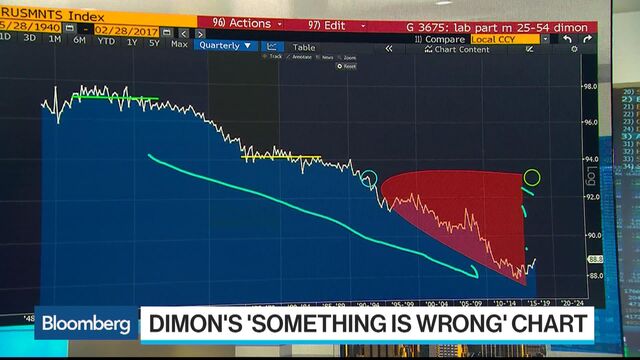 Companies added workers to U.S. payrolls in March at the fastest pace since December 2014 on solid gains in construction and manufacturing and at small businesses, data from the ADP Research Institute in Roseland, New Jersey, showed Wednesday.
Key Points
Private payrolls climbed by 263,000 (forecast was 185,000) after a 245,000 gain in February that was revised lower from initial reading of 298,000
Goods-producing industries, which include manufacturers and builders, increased headcounts by 82,000 after a 100,000 gain, the strongest two months in data going back to 2002
Service providers boosted payrolls by 181,000 after a 145,000 increase

Big Picture
Businesses continue to retain as well as take on more workers to meet demand, helping to sustain the progress that has put the labor market at or near the Federal Reserve's maximum-employment objective. The ADP figures, as they did last month, may spur economists to boost estimates for private jobs in Friday's release of the Labor Department's monthly payrolls report. Before the ADP data, the Bureau of Labor Statistics report was projected to show a gain of 170,000 non-government, non-farm jobs following a 227,000 advance.
Economist Takeaways
"Job growth is off to a strong start in 2017. The gains are broad based but most notable in the goods-producing side of the economy including construction, manufacturing and mining," Mark Zandi, chief economist at Moody's Analytics Inc. in West Chester, Pennsylvania, said in a statement. Moody's produces the figures with ADP.
The Details
Hiring in construction rose by 49,000 following a 59,000 increase, the biggest two-month gain since 2006
Factories added 30,000 workers after a 33,000 gain in February, the strongest two month-advance since 2010
Companies employing 500 or more workers increased staffing by 45,000 jobs; payrolls rose by 100,000 at medium-sized businesses, or those with 50 to 499 employees; while small companies' payrolls jumped by 118,000, the most since June
Education jobs fell by 32,000 and information positions declined by 10,000, the only two categories to show declines
Before it's here, it's on the Bloomberg Terminal.
LEARN MORE