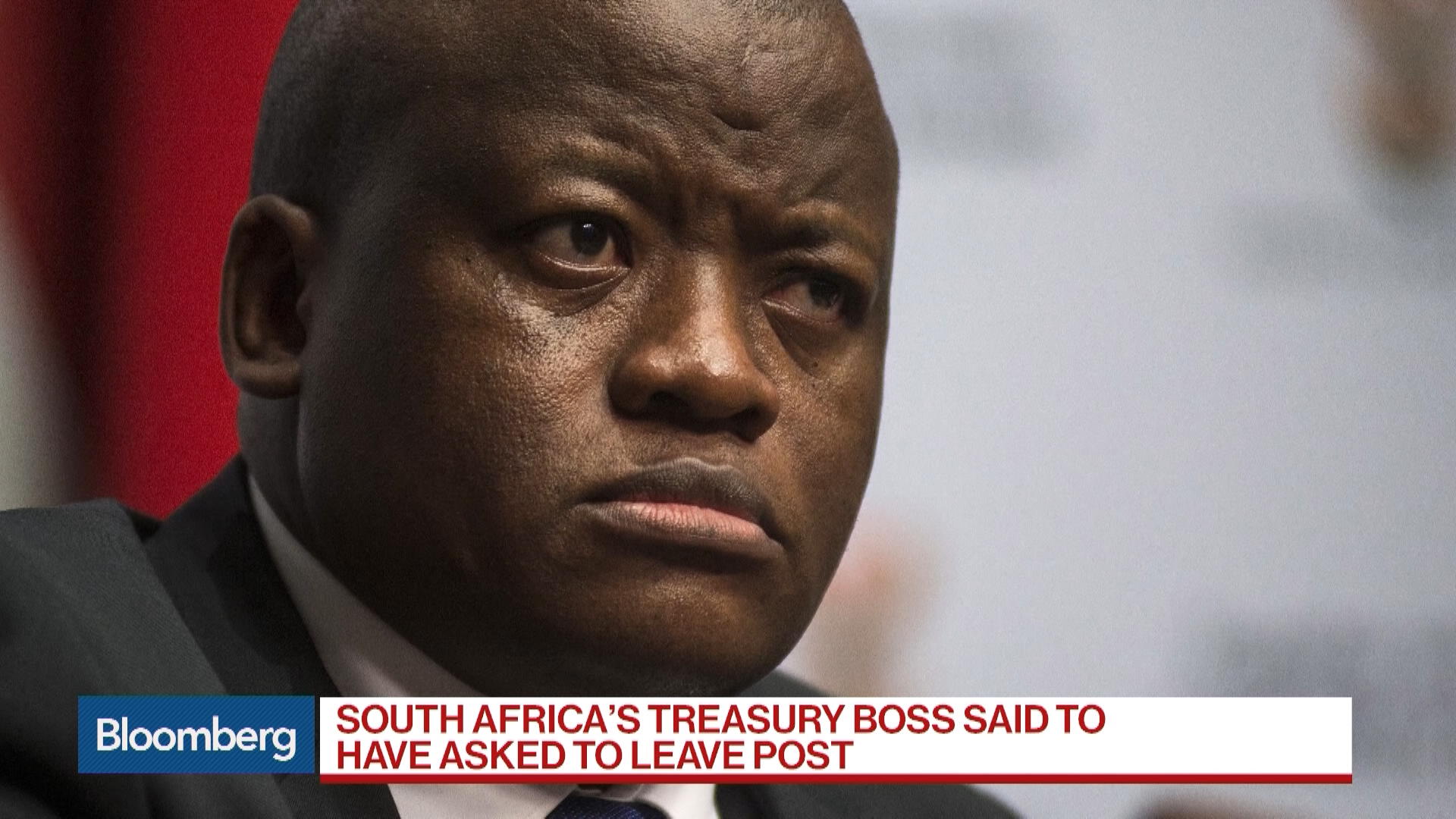 South African President Jacob Zuma's power is steadily eroding as his tenure as head of the ruling African National Congress draws to a close. His sweeping cabinet changes, including the firing of Pravin Gordhan as his finance minister, have precipitated a political crisis to go along with his own scandal-ridden history and the nation's economic struggles -- high unemployment, yawning inequality and a recession. Following the March 31 dismissal of Gordhan, a favorite of investors who kept a lid on spending and pledged to cut debt, S&P Global Ratings and Fitch Ratings Ltd. cut the nation's credit rating to junk. Opposition parties, labor unions, civic groups and even some senior ANC members are demanding that Zuma quit or be fired. He's due to step down as party leader in December and as president in 2019.
1. How is Zuma still holding on?
The campaign to push Zuma out won't succeed without the backing of a significant portion of the ANC, the nation's dominant party since the first post-apartheid election in 1994. Thus far the party has closed ranks in the face of opposition moves against its leaders.
2. Are there any cracks in Zuma's party support?
Yes. Top leaders, including Deputy President Cyril Ramaphosa, have criticized Zuma for firing Gordhan. The South African Communist Party and the Congress of South African Trade Unions, both ANC allies, are calling on Zuma to go. And the ANC's National Executive Committee has twice discussed, and rejected, the option of ousting him. Many of the NEC's members have been appointed to government positions by Zuma and have been key to his survival.
3. How could he be removed?
While there are clear mechanisms to remove Zuma, it's no easy task. The NEC, a group of about 100 party leaders, could still yet decide by majority vote to call on Zuma to resign as president. This isn't unprecedented. The committee forced out then-President Thabo Mbeki in 2008, although he wasn't, like Zuma is, the head of the party at the time. Parliament could also act. Opposition parties have tabled a no-confidence vote in his leadership. (Zuma survived several previous such votes.) If such a motion won support from all opposition members of the 400-seat National Assembly, it would still need 50 of the ANC's 249 lawmakers to win a majority. The Constitutional Court has ruled that the speaker of parliament can decide if that vote will be by secret ballot, which would enable ANC legislators to vote against him without running the risk of losing their jobs. The speaker is a top ANC official and the party's parliamentary caucus has been instructed to reject the motion.
4. Is the worst over for South Africa's currency?
The political upheaval of the last few months has sent South Africa's rand on a wild ride. Before Zuma recalled Gordhan from a series of meetings with investors in London, it was the world's best-performing currency so far in 2017. It then plunged as much as 10 percent in six days, but it's since made up most of those losses. Analysts are split on where it's headed from here. Estimates of where the currency will end the year range from 12.35 to 15.91 to the dollar, a Bloomberg survey shows.
5. Are foreign investors fleeing?
Not yet. Yields on South Africa's government bonds are among the highest for countries that have at least some debt rated investment-grade. Some investors say yields are rich enough to compensate them for the increased risk. Offshore investors remained net buyers of South African rand debt throughout the turmoil. While S&P and Fitch Ratings now rate South Africa's foreign-currency debt at one level below investment-grade, Moody's still assess its creditworthiness above that threshold. The country's local-currency debt ratings at S&P and Moody's are still investment grade. About a third of that debt, which amounts to 1.74 trillion rand ($135 billion), is held by foreign investors.
The Reference Shelf
— With assistance by Laurence Arnold, Robert Brand, and Sam Mkokeli
Before it's here, it's on the Bloomberg Terminal.
LEARN MORE