Photographer: Susana Gonzalez/Bloomberg
Your Evening Briefing
Here are today's top stories
Bloomberg News
The evening briefing will soon be available in your inbox every day. To be among the first to get it, sign up here. 
On July 22, 2008, days after oil reached its all-time high, a small group of Mexican civil servants made a wildly contrarian play. Betting that oil prices were about to crash, they sought to hedge Mexico's oil revenue through a deal with Wall Street banks. The gigantic transaction amounted to 330 million barrels—enough to meet the annual oil imports of the Netherlands. If it paid off, the profits would be enormous. And if they were wrong? They would have spent a small fortune in vain. We unravel the untold story of how Mexico constructed what quickly became the world's largest and best­-concealed oil trade.—Kristine Servando
The theme park of the future could be in this Chinese basement. A startup co-founded by a famed film director is preparing to open what it describes as the world's first virtual-reality park. While the preparations are under way, the firm operates in a 10,000-square-foot basement of a Beijing shopping mall, where goggle-wearing visitors can shoot aliens while walking through a barren, foam-padded area or try out other virtual experiences. Here's a glimpse: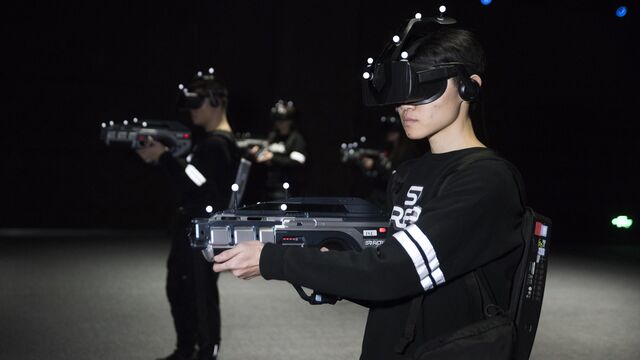 Trump cracks down on the visa that feeds Silicon Valley. Team Trump has rolled out policy shifts that make it harder to bring overseas tech workers to the U.S. using the H-1B work visa. That's bad news for Silicon Valley's biggest technology companies, many of which were founded or run by immigrants, as well as India-based outsourcing firms that receive a disproportionate percentage of the visas.
The top woman at Indonesia's central bank has a different approach to fighting inflation. Rosmaya Hadi, the new Bank Indonesia deputy governor, is keenly aware that it takes more than just setting interest rates. She favors a bottom-up approach: as a check on consumer spending she once enlisted the help of 2,000 religious leaders to spread the message of fiscal moderation on the eve of a festival when Indonesians usually step up spending on food and gift-giving. "People may not listen if it's the central bank speaking, so we had to find new approaches and rely on local leaders and the local wisdom," she said in her first interview since taking office. 
Revealed: five innovations that could transform air travel. The fight for a new generation of travelers is intensifying as a dearth of upcoming jetliner models forces airlines to get creative. The next generation of gizmos, on show at the 2017 Aircraft Interiors Expo in Hamburg, are worth a look. They include robotic waiters that can roll snacks and drinks to your row, cabin windows that double as infotainment screens, and sliding seats that create less scope for armrest battles.
Inside the world's newest mega-skyscraper. South Korean conglomerate Lotte Group is finally revealing its 123-story tower to the public. Here's a closer look at some of the tower's record-setting amenities, including the 118th-floor glass-bottomed observation deck (the world's highest at 1,640 feet above ground). If you're prone to feeling queasy, don't look down!

Before it's here, it's on the Bloomberg Terminal.
LEARN MORE