UN Leaders Extend Talks as Outrage Over Syrian Gas Attack Grows
By
Russia rejects resolution demanding UN access to airfields

Strike may be worst chemical attack in Syria since 2013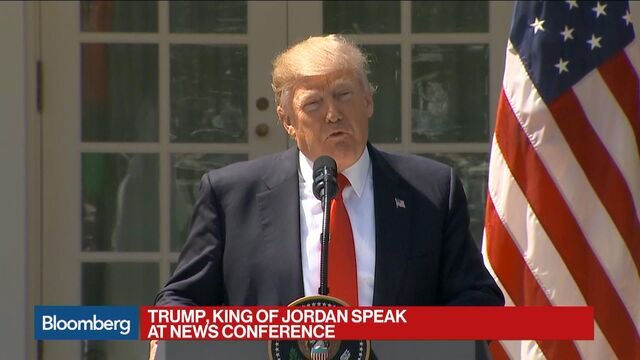 The United Nations Security Council met in an emergency session after an apparent gas attack in Syria left scores dead, but it wasn't clear that global fury over the carnage would translate into action after Russia and Syria rejected accusations they were to blame.
Diplomats debating a draft Security Council resolution condemning the attack, which a human rights group says killed 72 people, extended their discussions by an hour to at least noon New York time on Wednesday. The resolution, drafted by France, the U.K. and the U.S., calls on Syria to provide UN investigators information about air operations, including the names of commanders of helicopter squadrons, on April 4. The resolution also demands UN access to Syrian air bases.
The severity of the attack -- videos widely circulating on social media show children struggling to breath and dying -- fueled calls from some Western officials for President Bashar al-Assad to step down, a six-year demand that still appears out of reach.
"If proven that the regime was behind this, it demonstrates once again the barbarity of Assad and the requirement that he must go," U.K. Ambassador to the UN Matthew Rycroft told reporters outside the Security Council. "He cannot be the person who unifies Syria after this war."
Russia, which backs Assad's regime and has vetoed seven previous resolutions critical of Syria, said the current resolution was "categorically unacceptable." Moscow has blamed the deaths in Tuesday's attack on rebels, saying in a Defense Ministry statement that the Syrian air force hit an ammunition depot in northern Idlib province where chemical weapons were stored.
The April 4 attack also puts the Trump administration in a corner since, if chemicals were used by Assad's army, it signals Syrian non-compliance with a deal to destroy such weapons, an accord brokered by the Obama administration and Russia after an August 2013 sarin gas attack killed more than 1,000 people in a Damascus suburb.
The U.S. administration gave mixed signals in its response to the attack. While President Donald Trump blamed the Obama administration for not pushing to get rid of Assad in previous years, he didn't say what the U.S. is willing to do now. Secretary of State Rex Tillerson pinned the blame on Russia, Iran and Syria but also declined to suggest what new action might be forthcoming.
'Cannot Be Ignored'
The attack "is reprehensible and cannot be ignored by the civilized world," Trump said in a statement. "These heinous actions by the Bashar al-Assad regime are a consequence of the past administration's weakness and irresolution," he added.
Despite Russia's criticism of Wednesday's draft resolution, other UN diplomats said they still hoped for a vote as early as Wednesday afternoon.
After six year of fighting, Assad has managed to remain in power thanks to decisive military support from Russia and Iran. Although former President Barack Obama said "Assad must go" in 2011, the U.S. and an alliance of rebels it backed never mounted a successful campaign to overthrow him.
In the wake of Tuesday's attack, the U.K.-based Syrian Observatory for Human Rights said its on-the-ground sources reported that one neighborhood "was bombed with material believed to be gases which caused suffocation and other symptoms."
Sarin Gas
The group Medecins Sans Frontieres, also known as Doctors Without Borders, said the attack victims showed symptoms consistent with exposure to at least two different chemical substances, including sarin gas and chlorine.
"I'm appalled by the reports that there's been a chemical weapons attack on a town south of Idlib allegedly by the Syrian regime," U.K. Prime Minister Theresa May said while on a trip to Saudi Arabia. "We cannot allow this suffering to continue."
United Nations Secretary General Antonio Guterres was "deeply disturbed" at the incident, even though the world body was not in a position "to independently verify reports" of the chemical attack, according to UN spokesman Stephane Dujarric. If confirmed, the attack "constitutes a serious violation of international law."
— With assistance by Dana Khraiche
Before it's here, it's on the Bloomberg Terminal.
LEARN MORE