Trump Team's 'Jumbled' Trade Message Needs Fix, BofA CEO Says
By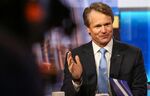 It's imperative that the Trump administration clarify the debate about trade as global partners grow worried that the U.S. is turning inward, Bank of America Corp. Chief Executive Officer Brian Moynihan said.
Secretary of State Rex Tillerson, Treasury Secretary Steven Mnuchin and other officials must "go out and make sure people understand what precisely the discussion is about, which is about the fairness of trade" as opposed to the concept of trade, Moynihan said Tuesday during an event at the Washington Post newspaper. "That gets jumbled and the rest of the world needs to hear from the direct actors on that basis, because that might calm them down. Right now they are nervous."
Trade has emerged as one of the most contentious issues between the new U.S. administration and the rest of the world. Mnuchin's first appearance with his counterparts last month at the meeting of Group of 20 nations in Germany yielded a watered-down text that removed a previous pledge to avoid "all forms of protectionism."
China's Xi Jinping, who has recently voiced support for global trade, will meet this week with President Donald Trump at the Republican's Mar-a-Lago resort in Palm Beach, Florida. Moynihan said that despite the "rhetoric," global trade isn't going to disappear. 
"We are in competition with the rest of the world, whether we like it or not," he said during a webcast interview. "So the idea of retrenching from that is an impossibility now. The question is what's the balance, that's the policy debate."
Before it's here, it's on the Bloomberg Terminal.
LEARN MORE