Tarullo Suggests Phasing Out Key Part of Bank Stress Tests
By
Bank regulator delivers his final speech as Fed govenor

Wall Street has improved its performance in exams, he says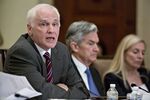 It may be time to phase out one of Wall Street's most feared aspects of the annual stress tests conducted by the Federal Reserve, Governor Daniel Tarullo said Tuesday on the eve of his last day on the board.
The Fed official who has wielded unprecedented influence over the regulation of big banks said the part of the exams that measures lenders' ability to weather a major crisis -- known as the qualitative test -- may not be needed much longer.
With Wall Street improving its performance in the tests, Tarullo said the qualitative portion could be incorporated into the Fed's routine supervision of banks. That would remove an important hurdle that lenders must clear to win approval to pay dividends to their shareholders.
"It should alleviate the apprehension of banks that they may be subject to objections to their capital plans that are both very public and hard to fully anticipate," Tarullo said in his final official speech, delivered at Princeton University. Earlier this year, the agency had already exempted regional banks from that same part of the tests, which evaluates how they plan for managing capital and risk under duress.
Policy Recommendations
In the 2016 stress tests, the Fed told Morgan Stanley to resubmit its plan after shoring up internal systems. It was the only large U.S. bank to come up short, though U.S. units of Banco Santander SA and Deutsche Bank AG failed their exams.
In February, Tarullo announced his plans to resign. President Donald Trump's administration hasn't nominated a successor.
In his farewell remarks, Tarullo pitched other policy ideas for the Fed to consider. They include exempting community banks from the Volcker Rule and reevaluating capital requirements for custodial banks such as Bank of New York Mellon Corp. and State Street Corp. He also said he still expects the Fed to move forward with a change to its tests that could increase capital demands on the largest banks.
Tuesday's speech follows a March 21 letter that Tarullo sent to Senate Banking Committee Chairman Mike Crapo, in which he wrote that more should be done to ensure regulators treat smaller banks differently than Wall Street giants. He said more stratification of regulations and significant rollbacks of burdens on community banks "are necessary further steps."
Banking Overhaul
Tarullo is departing after more than eight years at the Fed, during which the former professor and Capitol Hill staffer had a front-row seat to the aftermath of the 2008 financial crisis. In his tenure, the Fed worked to put Dodd-Frank Act rules in place and to adopt new capital and liquidity standards for banks -- major changes that Trump administration officials have said they now plan to rethink.
Earlier on Tuesday, Trump said at an event with business leaders that his administration is "going to do a very major haircut on Dodd-Frank." He argued that regulators have been running banks and that the White House is working on an overhaul that is "going to be very good for the banking industry."
Tarullo cautioned against weakening banks' capital requirements, saying it would be "tragic if the lessons of the financial crisis were forgotten so quickly."
As of this week, Trump now has three openings to fill on the seven-member Fed board -- all of which will have votes on the Federal Open Market Committee that sets U.S. interest rates. One of the vacancies is for a vice chairman of supervision, the never-filled position established by Dodd-Frank, which Tarullo largely occupied without ever being given the title.
An agency spokesman declined to comment on who will take over Tarullo's work at the Fed while the agency awaits Trump's appointee.
Before it's here, it's on the Bloomberg Terminal.
LEARN MORE