South Africa's Biggest Labor Group Cosatu Calls for Zuma to Quit
By
Cabinet changes were not based on merit but on loyalty: Cosatu

Cosatu joins ANC ally Communist Party in urging Zuma to resign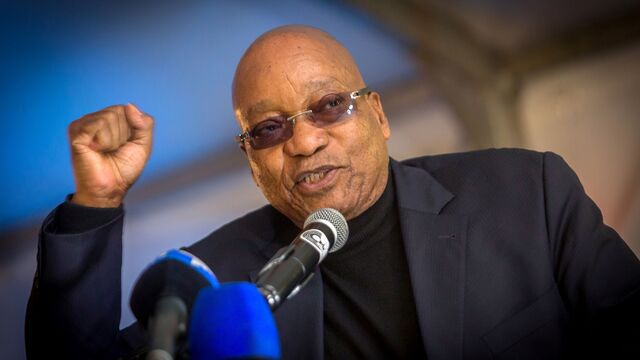 South Africa's main labor federation called for President Jacob Zuma to resign after he fired the finance minister and made sweeping changes to his cabinet without consulting the top leaders of the ruling African National Congress and its allies.
"The time has arrived for him to step down and allow the country to be led forward by a new collective at a government level," Cosatu General Secretary Bheki Ntshalintshali told reporters in Johannesburg on Tuesday. "We no longer believe in his leadership abilities and we shall be communicating that decision to our ally the ANC."
South Africa lost its investment-grade credit rating from S&P Global Ratings for the first time in 17 years in response the increased political and policy uncertainty following Zuma's decision to reshuffle 10 ministers and 10 deputies. The Congress of South African Trade Unions and other labor groups worked with government and business leaders in a campaign led by former Finance Minister Pravin Gordhan, 67, to stave off a credit ratings downgrade.
Cosatu is a member of the Tripartite Alliance with the ANC and the South African Communist Party, which also called on Zuma to resign after he recalled Gordhan from an investor roadshow in London on March 27 and fired him.
"He has also failed to deal with some of the most incompetent ministers in his cabinet, proving that this cabinet reshuffle was not based on merit but on political loyalty," Ntshalintshali said.
Before it's here, it's on the Bloomberg Terminal.
LEARN MORE