politics
Rice Denies Allegations of Improper Surveillance Against Trump
By
Former national security adviser says she was doing her job

Conversations with foreign officials monitored by spy agencies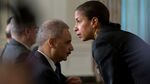 Former National Security Adviser Susan Rice denied accusations that the identities of people associated with President Donald Trump's campaign or transition team were "unmasked" in classified intelligence reports in order to spy on them for political purposes.
In an interview Tuesday with MSNBC, Rice didn't deny requesting that intelligence agencies provide her with the names of Trump associates overheard talking with -- or mentioned by -- foreign officials or people abroad on secretly recorded calls. She said part of her job working for President Barack Obama was reviewing intelligence reports, and the unmasking of names was done when necessary to better understand their significance. Rice said she never leaked the identities of people whose names were revealed.
"There is an established process for senior national security officials to ask for the identity of U.S. persons in these reports," Rice said. "We can't be passive consumers of this information and do our jobs effectively to protect the American people. For us not to try to understand it would be a dereliction of duty."
Trump and his allies have focused on the Obama administration's handling of surveillance data as they fend off questions about multiple investigations into Russian interference in the 2016 election, including whether the president's associates colluded with Russia's government and whether any crimes were committed.
For a QuickTake Q&A on the Russia-Trump saga, click here
Rice's successor, retired Lieutenant General Michael Flynn, was dismissed by Trump after just weeks in office after he misrepresented his conversations with Russia's U.S. ambassador to White House officials, including to Vice President Mike Pence. But the fact that the information about Flynn's conversations became public has fueled Republican anger about whether classified information was mishandled.
Republican Representative Devin Nunes, who heads the House Intelligence Committee, helped fuel the latest twist in the controversy over Flynn's dismissal when gave a news conference last month to discuss the unmasking of U.S. citizens in the classified reports and then visited the White House to brief Trump, while refusing to share the information behind his claims with other members of the committee. After repeated questions about how he got the material, Nunes said that he met his source on the White House grounds.
In the interview Tuesday, Rice rejected allegations that improper, or possibly illegal, surveillance and unmasking was done against Trump officials before and after the presidential election. The former White House official said she didn't have the authority to unmask any identities in those reports herself. Instead, she would have to make a request to an intelligence agency, which would decide whether to do so.
Moscow's Role
Rice's comments came as the two intelligence committees on Capitol Hill pursue independent investigations of Moscow's role in the presidential campaign, in addition to probes under way at the FBI and other intelligence agencies.
"This was a witch hunt that began with the Obama administration," Republican Senator Rand Paul of Kentucky said in an interview on MSNBC on Tuesday before Rice spoke. "I believe Susan Rice abused this system and she did it for political purposes. She needs to be brought in and questioned under oath."
Rice's alleged role in unmasking the names of U.S. officials picked up in tapped communications gives Republicans a familiar target. As ambassador to the United Nations under Obama, Rice was pilloried by Republicans for giving what was ultimately determined to be incorrect information about attacks on a U.S. diplomatic annex in Benghazi, Libya, which resulted in the death of four Americans in 2012. When that controversy derailed her nomination to be Obama's secretary of state, the president named her national security adviser.
'I Leaked Nothing'
Rice said the pace of intelligence reports increased before and after the election in response to Obama ordering agencies to investigate and report on Russia's activities. She said she didn't "have a particular recollection" of requesting that more identities be unmasked during that time frame.
Rice said it's possible that the communications of Trump associates were incidentally collected during surveillance of foreign intelligence targets. But she said there is "no equivalence" in asking an intelligence agency privately for a person's identity to be disclosed versus leaking that person's identity to the public.
"I leaked nothing to nobody and never have and never would," Rice, 52, said.
Rice wouldn't say whether she would agree to testify before the House or Senate intelligence committees.
Former Central Intelligence Agency chief Michael Hayden said Tuesday that there is no "smoking gun" in how the unmasking was done.
'Fully Lawful'
"The process as described is perfectly normal and on its face does not in any way constitute a smoking gun," Hayden, who served in both Democratic and Republican administrations, told reporters in Washington. "When someone asks to unmask, the requester -- if it's granted, it's not always granted, so don't assume just cause someone asked they got it -- but if it's granted it only goes to the requester, not to everybody on the original distribution."
Some incidental collection of communications is "unavoidable" and "fully lawful" as intelligence agencies seek to gather information, said Representative Adam Schiff of California, the top Democrat on the House Intelligence Committee. While surveillance is lawful when the target is a foreigner operating outside the U.S., agencies are required to get a specific court warrant if the target is a U.S. person or someone inside the U.S.
Schiff has been given access to classified intelligence reports and the names of unmasked officials as part of the committee's investigation.
"When it is necessary to unmask a name to understand  the significance of the communication, there is a process for doing so, which is also lawful," Schiff said in a statement. "Our committee routinely reviews whether our intelligence agencies are properly masking names and unmasking them as appropriate."
— With assistance by Nafeesa Syeed, and Billy House
(
Updates with lawmaker comments starting in ninth paragraph.
)
Before it's here, it's on the Bloomberg Terminal.
LEARN MORE