RBA Swats Away Hawks as Job Market Unease Signals Extended Pause
By
Household borrowing growth still outpacing income growth: Lowe

Central bank has left interest rate at record low since August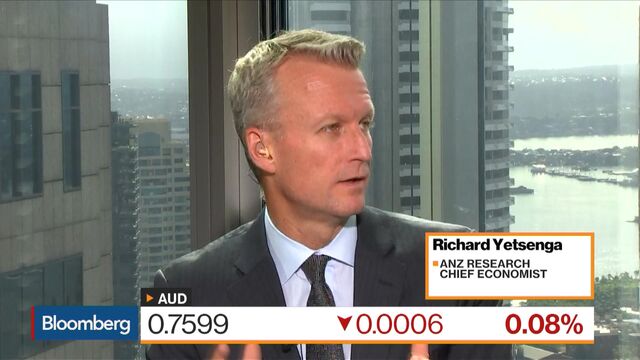 Australian policy makers left hawks in the lurch as they painted a weaker picture of employment, signaling an extended pause on interest rates and sending the currency lower.
Governor Philip Lowe kept the cash rate at a record-low 1.5 percent, saying "some indicators of conditions in the labor market have softened recently" and "employment growth is modest," in his statement Tuesday. The jobless rate climbed to 5.9 percent in February, the highest since the start of last year.
Without a pickup in hiring there's little prospect of workers feeling confident enough to seek pay rises, suggesting inflation will remain subdued and core measures below the Reserve Bank of Australia's 2 percent to 3 percent target. In the other corner, runaway property prices in Sydney and Melbourne fueled by cheap cash have driven household debt to eye-watering levels, threatening financial stability.

In response to rampant housing gains, regulators have tightened curbs on borrowing to try to slow lending growth, particularly to investors who scoop up property to take advantage of tax breaks, forcing owner-occupiers to pay exorbitant prices.
"Growth in household borrowing, largely to purchase housing, continues to outpace growth in household income," the RBA chief said Tuesday. Data Monday showed Sydney property prices grew at the fastest annual pace in almost 15 years.
"By reinforcing strong lending standards, the recently announced supervisory measures should help address the risks associated with high and rising levels of indebtedness," Lowe said. "Lenders need to ensure that the serviceability metrics that they use are appropriate for current conditions. A reduced reliance on interest-only housing loans in the Australian market would also be a positive development."
The currency fell to 75.67 U.S. cents at 4:24 p.m. in Sydney from 76.05 cents before the announcement. Traders continued to price in almost no chance of a rate move this year.
"The competing forces of below-target inflation and soft employment growth against rampant property markets in Sydney and Melbourne mean policy is on hold for the foreseeable future," said Gareth Aird, a senior economist at Commonwealth Bank of Australia, the nation's biggest lender.

The governor said recent economic data are "consistent with ongoing moderate growth" and noted "non-mining business investment has risen over the past year." He again highlighted improved international trade and industrial production as well as tighter labor markets in many countries as the global economy shows signs of a synchronized upswing.
Since taking the helm in September, Lowe has signaled a willingness to tolerate a slower return to the inflation target -- by not easing further -- to avoid further inflaming property markets. The RBA cut rates twice last year and house prices accelerated anew after the second reduction in August.
Meanwhile, the Aussie dollar is up about 5 percent this year, the second-best performer among a group of 10 currencies tracked by Bloomberg. Lowe reiterated that an appreciating exchange rate would "complicate" the economy's adjustment from mining to manufacturing and services.
Australia has enjoyed an Indian Summer for commodity prices as Chinese stimulus last year drove manufacturing gauges higher and boosted demand for iron ore and coal. Traditional service industries are also benefiting from the world's No. 2 economy, particularly tourism: Australia had a record 1.2 million visitors from China last year. Moreover, the unwinding of a mining investment boom that's dragged on growth in recent years is almost complete.
"The board judged that holding the stance of monetary policy unchanged at this meeting would be consistent with sustainable growth in the economy and achieving the inflation target over time," Lowe said in the conclusion of his statement.
— With assistance by Kimberley Painter
Before it's here, it's on the Bloomberg Terminal.
LEARN MORE