markets
No Urgent Philippine Policy Move Needed, Tetangco Says
By and
Inflation forecast to peak at close to 4% in third quarter

Tetangco's successor needs to manage inflation, currency risks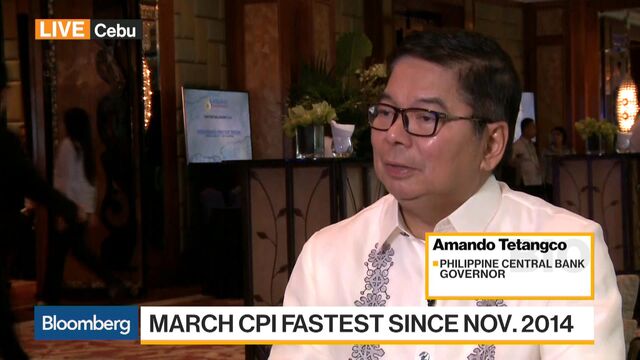 The Philippines central bank sees no urgent need to raise interest rates with inflation forecast to ease after peaking in the third quarter, Governor Amando Tetangco said.
Consumer-price growth will probably reach close to 4 percent this year before slowing, Tetangco said in an interview on Tuesday. With "the inflation forecast being within the inflation target, there's really no urgency to make any change in the stance of policy," he said in Cebu, south of Manila.
Tetangco's comments signal the Philippine central bank may not rush to tighten policy even as economists predict it will be the first in Southeast Asia to raise interest rates this year. Bangko Sentral ng Pilipinas held the benchmark rate at a record-low 3 percent in March and lowered inflation forecasts.

"It is worth waiting before making a move," said Emilio Neri, an economist at Bank of the Philippine Islands in Manila. "The inflation momentum doesn't seem strong enough to breach the target even in the face of peso depreciation and oil going back above $50 a barrel."
Consumer prices rose 3.4 percent in March from a year earlier, the fastest pace since November 2014, data showed on Wednesday. The central bank's target is for average inflation to stay at 2 percent to 4 percent this year and next.
Some economists are still pricing in higher rates for this year. Goldman Sachs Group Inc. is forecasting two increases this year, Jonathan Sequeira, a Hong Kong-based analyst, said in a note Wednesday. The benchmark will probably rise to 3.5 percent by the end of the year and to 4.25 percent by the end of 2018, Australia & New Zealand Banking Group economist Eugenia Victorino said in a note Wednesday.
Successor's Challenges
Tetangco, who steps down in July after his second, six-year term ends, said his successor's biggest challenges will be managing inflation and exchange-rate risks as well as maintaining stability amid political noise.
"Working well on our side is that we continue to have sound macro-fundamentals," he said, citing robust growth, a sound banking system, and a generally good external position. "There's monetary policy space, so we can move either way as may be appropriate."
Tetangco, 64, said in January that the central bank can refrain from raising interest rates in the first half of the year.
"I'm really talking about policy continuity down the road," the governor said. "Economic performance has not really been affected by political noise" and focusing on maintaining sound macropolicies will ensure that sustained growth and low inflation will continue, he said.
In his remaining months in office, Tetangco said the central bank is looking at the possible automation of the overnight deposit and lending facilities. "The possibility of reducing reserve requirements is still on the table, but we also have to consider the present as well as anticipated monetary conditions including the inflation forecast," he said.
Current-Account Deficit?
President Rodrigo Duterte is set to name Tetangco's replacement in coming weeks. Among the possible candidates are two of his deputies, Nestor Espenilla and Diwa Guinigundo, banker Antonio Moncupa and former Monetary Board member Peter Favila.
Inflation risks are building in the Philippines, with the economy growing more than 6 percent, among the fastest in the world, and the currency under pressure. The peso has dropped 0.9 percent against the U.S dollar this year, the worst performer of 12 Asian currencies tracked by Bloomberg.
Strong consumer spending and the government's infrastructure rollout has fueled demand for imports, eroding the current-account surplus. Credit Suisse Group AG said last month the Philippines may post a current-account deficit this year, the first since at least 2005. Fitch Ratings said last week it expects the current account to move into a modest deficit over 2017 to 2018.
"A deficit may cause some depreciation pressures on the exchange rate," Tetangco said. BSP's policy has always been to allow the currency to respond to market forces, while retaining scope for possible participation to avoid sharp movements, he said.
— With assistance by Clarissa Batino
(
Updates with analysts forecasts for rate increases in sixth paragraph.
)
Before it's here, it's on the Bloomberg Terminal.
LEARN MORE