Merkel Challenges Trump With G-20 World-Trade Pitch in Hamburg
By and
German leader doubles down on commitment to WTO, open borders

Trump, G-20 leaders to gather in Hamburg for summit in July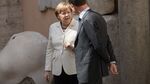 German Chancellor Angela Merkel vowed to champion a global free-trade agenda in a direct challenge to U.S. President Donald Trump and his stated aim to rewrite the rules on commerce.
Speaking at a maritime conference in Hamburg, where Merkel will host Trump and other leaders of the Group of 20 nations in July, the chancellor said her government would stand by the World Trade Organization's goal of doing away with trade barriers.
"I'm promoting exactly these things in the framework of the G-20 presidency," Merkel said on Tuesday in Germany's largest port city. The July 7-8 G-20 summit "is taking place, not very coincidentally, in Hamburg, because it's a city open to the world," she said.
Trade has emerged as one of the biggest rifts between the new U.S. administration and other G-20 countries, including Germany, China and Japan. Merkel and Trump clashed over trade in their first meeting in the White House last month, when the president lambasted ostensible German trade negotiators. Merkel pointed out that they didn't really exist since the European Commission overseas trade talks.
The tension has seeped directly into the G-20 negotiating process. U.S. Treasury Secretary Steven Mnuchin's first appearance with his counterparts last month in Baden-Baden yielded a watered-down text that eschewed a previous pledge to avoid "all forms of protectionism."
Merkel, in Hamburg, offered a blunt challenge to Trump's calls to raise barriers to protect American industry from what he views as unfair competition from abroad.
"This concept might perhaps bring short-term advantages for companies in the country that takes such measures," Merkel said. "But in the long run, a lack of competitiveness will have a negative effect -- to say nothing of the lack of innovation and its disadvantages for prices and product selection."
Since Trump's election, Merkel has stepped up coordination with China, including phone calls with President Xi Jinping and Premier Li Keqiang, in which the leaders voiced their commitment to open trade. Trump will meet with Xi at the president's Mar-a-Lago resort in Palm Beach, Florida this week.
Before it's here, it's on the Bloomberg Terminal.
LEARN MORE