Le Pen Campaign Director Reportedly Targeted by French Probe
By
Prosecutors probe possible misuse of public funds, Canard says

Investigators suspect regional funds directed to 2012 campaign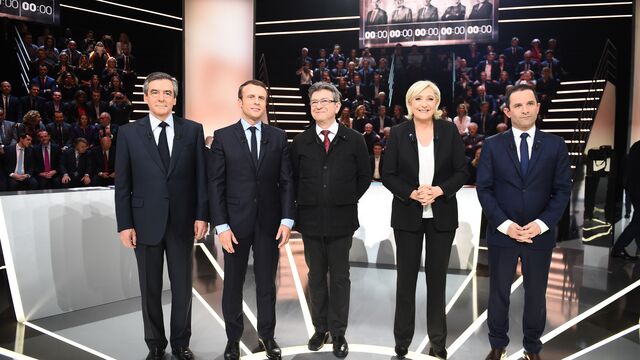 France's National Front and Marine Le Pen's campaign director David Rachline face a fresh investigation into possible misuse of public funds relating to the anti-euro candidate's last run for president five years ago, newspaper Le Canard Enchaine said.
Lille prosecutors opened a preliminary probe into the National Front's use of funds from the Nord-Pas-de-Calais regional council in the North of France between 2010 and 2015, Le Canard reported on Tuesday, without saying where it got the information. Investigators suspect Le Pen used personnel and resources paid for by the regional administration to prepare her 2012 presidential campaign, according to the weekly newspaper.
Rachline is of particular interest to French investigators, Le Canard said, adding that he was being paid by the Northern region even though he had been elected as a councilor to a different region in the south of the country. Representatives for the National Front and Lille prosecutors weren't immediately available for comment.
Rachline posted a video he brandished as "proof it wasn't a fake job" on Twitter. "Shame on the judiciary which informs the press ahead of the investigation," he said in the post.
With less than three weeks before the first-round of the French presidential elections, Le Pen and independent candidate Emmanuel Macron have been running in a virtual tie in polls for the initial ballot. Republican Francois Fillon is trailing in third since an earlier Canard story in January triggered a criminal probe into his finances. Macron is projected to beat Le Pen by about 20 percentage points in the runoff on May 7.
In a Wednesday interview Rachline further played down the matter, saying his role in the South of France was no mystery and adding that the National Front group in the Nord-Pas-de-Calais region paid him only for three months.
"With energy, enthusiasm one can tackle several tasks at the same time," he said in an interview with TV channel LCP. "It's odd to see that two weeks before the first round of the presidential elections there's some interest in a case that dates back seven years."
Before it's here, it's on the Bloomberg Terminal.
LEARN MORE