Le Pen Ambushed in French Debate as Macron Attacks on Euro
By and
Nationalist says she aims to avoid a 'brutal exit' from euro

Marginal candidate puts Le Pen in a bind over key proposal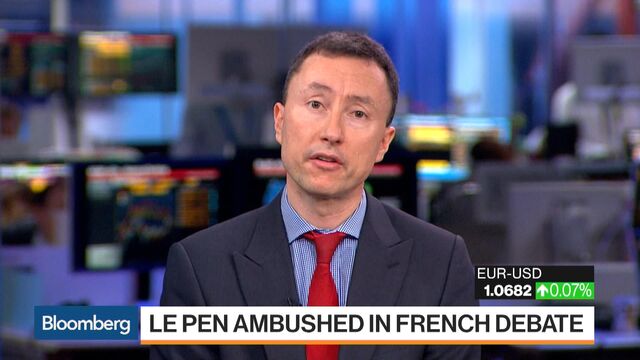 Marine Le Pen was labeled soft on her euro exit plans during a television debate performance that failed to win over viewers.
The National Front leader's opposition to the European Union has been a signature issue in the presidential election. Yet with all candidates granted a hearing in a four-hour discussion, Le Pen repeatedly lost her cool and was confronted by a marginal rival who tried to paint himself as the true anti-euro firebrand. Two snap polls rated her only the fourth-most-convincing candidate, with roughly half the endorsements of front-runner Emmanuel Macron.
"What I see here around this table is 10 out of 11 candidates who approve in principle of the EU and all propose to renegotiate," said Francois Asselineau, who has the support of 0.5 percent of the electorate, according to pollster Ifop. "I am the only candidate of Frexit, which is to say the exit from the European Union."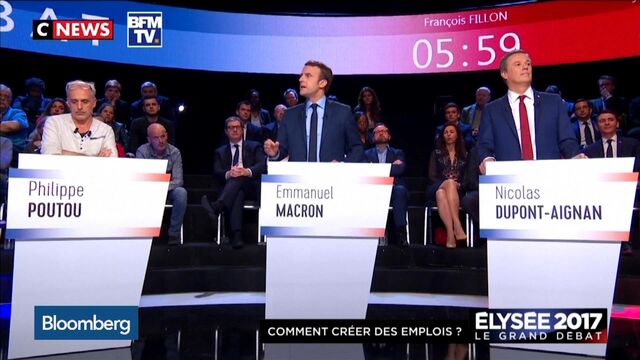 The first ever French election debate to include all the candidates featured a Ford factory worker in a T-shirt, a drawling southern farmer and a high school teacher in her second run for president who called for firing workers to be outlawed.
About 6.3 million people watched the debate, compared with more than 10 million for the encounter between the five top candidates on March 20, Agence France-Presse reported. With another session planned for April 20 still not confirmed, Tuesday night's exercise may have been the last chance to present all the candidates to voters before the April 23 first round of the election.
Mediocre Performance
Communist-backed Jean-Luc Melenchon was judged the best performer in an Elabe poll of 1,024 viewers. Twenty-five percent said Melenchon was the most convincing, followed by 21 percent for Macron. Republican Francois Fillon scored 15 percent, followed by Le Pen at 11 percent. A separate survey by OpinionWay had Melenchon, Macron and Fillon tied on 18 percent with Le Pen at 11 percent. Socialist Benoit Hamon, who slid in the polls after a pale performance in the first debate, again received the worst scores of the top five candidates.
"Marine Le Pen's score is quite mediocre because she had competition on the anti-European issue," Elabe pollster Bernard Sananes said. Fillon "didn't get any fresh momentum."
The spread between French and German 10-year bonds narrowed by 2 basis points to 65 basis points at 11:26 a.m. in Paris Wednesday. The fact that markets were blindsided by Brexit and Donald Trump "doesn't imply we will get them wrong each time," Vasileios Gkionakis, head of global FX strategy at Unicredit said on Bloomberg Television. The euro could rise to $1.10 from around $1.066 now should Macron win, he added.

While the so-called minor candidates reveled in their moment in the spotlight, Le Pen and front-runner Emmanuel Macron served up a taste of their likely matchup in the runoff on May 7, sparring over the risks of leaving the euro, Le Pen's legal problems and her father Jean-Marie's history of racism.
'No Economic Policy'
As Macron, a 39-year-old former economy minister, accused Le Pen of risking war in Europe with her attacks on the EU and hinted at her party's record of antisemitism, Le Pen shook her head and rolled her eyes.
"Let's not forget where we're coming from," he shouted, struggling to be heard over his rival. "You have been repeating the same lies for 40 years -- those your father used to tell."
Third-placed Fillon, hoping to repeat the comeback he pulled off in the Republican primaries last year, skewered Le Pen on her plan for a referendum on euro membership, saying it was the sum total of her plans for the economy.
"In reality Madame Le Pen has no economic policy," Fillon said. "The policy she does have will melt the moment the French vote" in that referendum.
With polls showing that she is virtually sure to make the final round of voting, and yet far short of a majority, Le Pen has been seeking to reassure voters in recent weeks that her euro exit plans can be carried out smoothly. As French television gave a hearing to all the first-round candidates for the first time ever, she was forced to triangulate in the face of an opponent with little to lose.

"What you are proposing is a brutal exit but you can't say that my way isn't clear," Le Pen said. "I want the French to decide. There will be a negotiation and whatever the result, the people will have their say."
The problem for 48-year-old Le Pen is that withdrawing from Europe's single currency is both her most distinguishing proposal and her most difficult sell. Polls consistently show that more than two thirds of voters want to retain the euro, and concern about her plans are proving an obstacle to expanding Le Pen's electoral base, especially with older voters who may be attracted by her nationalist message but fear for their savings.
"The referendum is a way for Le Pen to avoid totally embracing the euro exit, it provides her with a slight back door," said Bruno Cautres, a political scientist at Sciences Po in Paris. "Whether it will work is far from sure because for voters she is strongly identified with the policy and at the end of the day, if she becomes president, she will have to give her point of view."
Le Pen and Fillon have been caught up in investigations into their use of parliamentary allowances, and they came under repeated fire during the debate's segment on ethics in politics, especially from Philippe Poutou, the car factory worker in a t-shirt. He also went after Macron for his past in investment banking.
Poutou received one of the rare rounds of applause from the audience when in response to Le Pen citing parliamentary immunity as a reason for not cooperating with investigators, he told her "there is no worker immunity, when we are called by the police, we go."
— With assistance by John Follain, Geraldine Amiel, Vidya N Root, Gregory Viscusi, Rita Devlin, and Gaspard Sebag
Before it's here, it's on the Bloomberg Terminal.
LEARN MORE