Gundlach Says Bond Rally to Continue With 10-Year Yield Falling
By
Benchmark unlikely to top 3% this year, DoubleLine CEO says

Core and Flexible Income funds beating majority of their peers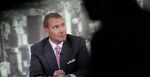 A bond rally is likely to continue with yields on 10-year Treasuries poised to head down in the short term, according to Jeffrey Gundlach, chief executive officer of DoubleLine Capital.
"I expect a rally on the 10-year and the 30-year, to below 2-1/4 at a minimum on the 10-year, maybe a little bit lower than 2 and then it moves back up," Gundlach, whose Los Angeles-based firm oversaw $105 billion as of March 31, said during a webcast Tuesday. "I don't think we're going to see 3 on the 10-year this year." 
Gundlach last month correctly forecast the start of a short-term rally in fixed income spurred by the Federal Reserve's interest rate hike, while keeping open the prospect that yields on 10-year Treasuries will top 3 percent this year and trigger a bond bear market. Gundlach, one of the few money managers to predict Donald Trump's election, has cautioned that the president's plans are "bond unfriendly" because they could fuel deficits and inflation.
Trump's plans for tax cuts are less likely to make headway than his proposals for infrastructure improvements, which will have more bipartisan backing, Gundlach said Tuesday.
"Tax cuts are going to be really, really hard to get done," he said.
Yields on 10-year Treasuries traded at 2.36 percent Tuesday after topping 2.6 percent on March 13, their highest level since July 2014. They have stayed in a tight range as the U.S. stock-market surge that followed Trump's election shows signs of losing steam. The Fed raised rates for the first time in 2017 on March 15 and has signaled plans for two more increases this year.
Gundlach's webcast focused on his $8.1 billion DoubleLine Core Fixed Income Fund, which invests in a range of assets led by U.S. government, mortgage and corporate debt; and the $741 million DoubleLine Flexible Income Fund, an unconstrained bond fund that uses debt-duration management to generate returns. The Core fund averaged 3.5 percent annual gains in the five years through March, outperforming 85 percent of its Bloomberg peers. Flexible Income, which has a three-year anniversary April 7, returned 6.5 percent in the 12 months ended March 31, beating 58 percent of rivals.
Before it's here, it's on the Bloomberg Terminal.
LEARN MORE