Gilt Yields Nearing 1% May Spell Fatigue as Inflation Risk Looms
By and
SocGen says rally 'stretched,' sees yield at 2% by end-2017

Gilt curve 'mispriced' given risk of faster inflation: Mizuho
Yields as low as 1 percent are within spitting distance for 10-year U.K. gilts, but the rally may well be on its last legs.
Bond rates slid over the past two weeks as investors sought safer assets amid local and global risks, but with inflation already exceeding the Bank of England's target and seen accelerating further, yields should rebound, Mizuho International Plc says. With markets pricing no interest-rate cuts by the BOE through next year, gains in gilts now look stretched, according to Pacific Investment Management Co. and Societe Generale SA.
The latest push lower in U.K. yields came in response to the official triggering of Brexit, a bombing in Russia and a sovereign downgrade for South Africa. A rally across U.S. and European bond markets helped the trend. Still, Tuesday's auction of 10-year gilts showed signs of market fatigue, with the bid-to-cover ratio falling to the lowest this year.
Click here to see technical analysis on gilt yields as they approach 1%
"This whole rally looks very stretched," Jason Simpson, a London-based fixed-income strategist at Societe Generale, said in a phone interview. "We're not in a period of the Bank of England doing more quantitative easing or cutting rates to near zero."

The yield on 10-year U.K. government bonds has fallen nine basis points this week to 1.05 percent. It touched 1.03 percent earlier Tuesday, the lowest level since October. Gilt yields last fell below 1 percent in the aftermath of last year's Brexit referendum, sliding to an all-time low of 0.5 percent following the BOE's rate cut in August.
Below is a compilation of strategists' and money managers' views on gilts:
Credit Agricole SA
Gilt yields falling below 1% is "a risk," according to Orlando Green, a rates strategist at Credit Agricole SA's corporate and investment banking unit in London
While there's general "broad-stroke forces" driving developed bond markets, Brexit "is certainly a driver that's close to home and one that's really going to be around until we get an idea of the tone of negotiations," he adds
Societe Generale SA
The bank expects gilt yields to climb back toward 2% by the end of the year, despite the recent "flight to quality" following Russian bombings and South Africa's downgrade, according to Simpson
Mizuho International Plc
The latest move is because of global risks, but overall the gilt curve is mispriced, according to Peter Chatwell, head of rates strategy at Mizuho
"This is the wrong curve shape for headline inflation being likely to rise over three percent later this year," he adds
The bank expects 10-year yield to rise to 1.5% by end-2017, with any upset in Brexit negotiations contributing to a fall in the pound and steeper inflation
Rabobank International
Rabobank's eight-month forecast is for 10-year yields to rise to 1.28%, but there's "every chance" they could dip below 1 percent, according to Lyn Graham-Taylor, London-based senior rates strategist
There's a global "risk-off tone. We're generally fans of lower yields, flatter curves," he said in a telephone interview
Pimco
"From a bond investor's perspective, markets are basically priced for unchanged rates and if there is some need to stimulate the economy you will get that through higher bond supply. Long-dated term premium frankly should be higher," Mike Amey, a London-based money manager at Pimco, said in a Bloomberg TV interview last week
"If you look at the risk profile of the gilt market, it prices in unchanged rates really until the tail end of 2018 or even the beginning of 2019 -- so the full Brexit negotiations. Our sense is the Bank of England would be very reluctant to ease policy further. Rates are very low and I don't think there's a great enthusiasm to go to zero or negative"
The yield spread between 10-year U.S. Treasuries and U.K. gilts is currently 127 basis points but "75 would be a much fairer number. There's still plenty of room for that to tighten"
Watch Next: Brexit Triggered: What Happens Now?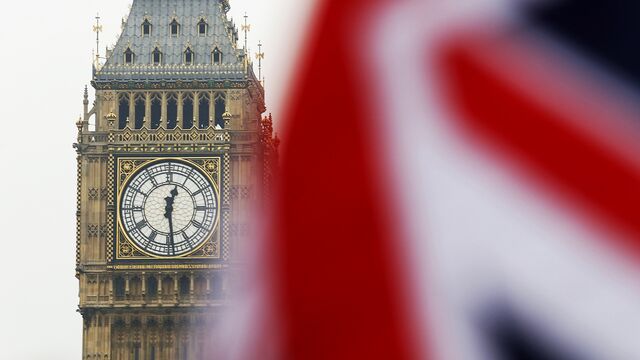 Before it's here, it's on the Bloomberg Terminal.
LEARN MORE