Gibraltarians Snared in Brexit Spat Fear Spanish Influence
By
Overwhelming majority of residents want to remain British

The spat means uncertainty for shipping, gaming, tourism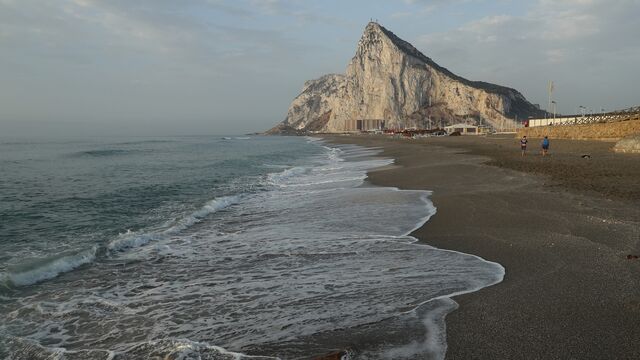 Peter Montegriffo doesn't like what Brexit talks might mean for "the rock."
A decision by the European Union to grant Spain a role in shaping agreements on the future of the British enclave in the Mediterranean has Gibraltarians like Montegriffo worried about the influence the Iberian nation may have on their economic future. After all, Madrid claims sovereignty over the territory that's been under British control since 1713.
"It serves to highlight very well what are Spain's intentions -- in that sense it is a wake-up call for London," said Montegriffo, who was Gibraltar's trade and industry minister from 1996 to 2000. "Its aim is to put the clock back 300 years. People fear that Spain is obsessed with this issue, which is frankly un-European and undemocratic."
The EU's decision to let Spain sign off on any future agreements on Gibraltar once Brexit has taken effect caused uproar in the U.K. As well as highlighting the complexity of the Brexit negotiations for the U.K., the spat means uncertainty for the economy of the 2.6 square-mile territory on Spain's southern tip that relies on financial services, gaming and tourism.
"The risk is that this makes Brexit negotiations more difficult when it's in everyone's interests that they go as smoothly as possible," said Christian Hernandez, president of the Gibraltar Chamber of Commerce.
Remain British
The first indication of trouble came on Friday, when it emerged that EU President Donald Tusk had handed Spain a say in the future of Gibraltar after the U.K. leaves the union. The EU's announcement caused consternation on the rock, as Gibraltar is known, where the overwhelming majority of residents want to remain British but also voted massively to remain in the 28-country bloc. 
The Gibraltar economy relies on low taxation and freedom of movement for Spanish workers to cross the border to work. Just how Spain will weigh in on the talks has cast a shadow over the territory.
"If the dispute closes the frontier, this will not only hurt the Gibraltarian economy it will also damage what is already the damaged economy of Andalusia – one of the poorest regions of Spain," said John Fletcher, Pro Vice-Chancellor Research and Innovation at Bournemouth University in the U.K.
Falklands Evoked
For Louis Montegriffo, who runs a Gibraltar property firm, the Spanish involvement doesn't bode well.
"All we know is that when Spain historically has been in a position to make life more difficult, it has tended to do so," said Montegriffo, managing director of BMI Group, whose family has lived on the rock for 250 years or more. Still, Gibraltar has always known how to withstand pressure from its neighbor, he said.
The issue of Spain's role in agreements about Gibraltar flared up over the weekend when Michael Howard, a former leader of the U.K. Conservative Party, made a comparison with the Falkland islands, suggesting that Britain would fight with Spain to defend the rock. Spain's Foreign Minister Alfonso Dastis on Monday urged the U.K. to keep its cool and British Prime Minister Theresa May laughed off any suggestion that the spat could lead to a war.
'Bargaining Chip'
Spanish diplomats were smart to see an opportunity to assert the country's position on Gibraltar as British and European officials make their opening gambits for the Brexit talks, said Angel Talavera, an economist at Oxford Economics in London. 
"Spain always wants to make its case but we are already 300 years into this," he said by phone. "It all looks like a bit of a storm in a teacup."
Business people in Gibraltar worry about Spain's power to disrupt the economic life of the territory by, for example, taking steps to restrict the border, said Nigel Birrell, chief executive officer of Lottoland, a Gibraltar firm that allows punters to bet on lottery draws. Even so, Spain's ability to cause serious harm to the territory's economy is probably limited because it does most of its trade directly with the U.K., he said.
"It is a bit annoying because it seems we are being used as a bit of a bargaining chip," said Birrell by phone.
Before it's here, it's on the Bloomberg Terminal.
LEARN MORE