El-Sisi's Trump Triumph Contrasts With Fight to Spur Economy
By
March PMI shows private sector hard-pressed by added costs

Businesses passing costs to consumers in impoverished nation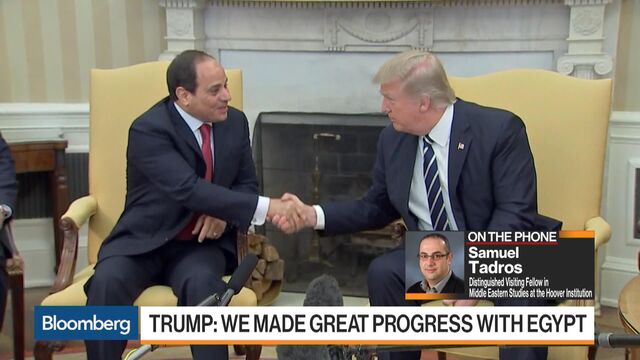 Egypt received some unsettling news after President Abdel-Fattah El-Sisi's upbeat visit with Donald Trump: Gains in private sector economic activity reversed course in March, suggesting the economy hasn't yet turned the corner despite painful austerity measures and currency reform.
Analysts had said a cordial White House visit would help to validate the Egyptian leader's war on Islamists and measures he promoted to boost an economy that's struggled since longtime president Hosni Mubarak was overthrown in 2011. El-Sisi, eager to keep about $1.5 billion in annual U.S. aid intact, received a warm welcome on Monday from Trump, who said he's "done a fantastic job in a very difficult situation."
While it's not clear how much aid Egypt will receive from the Trump administration, the tone toward El-Sisi was more positive than during the Obama era. The previous administration had been critical of his deadly crackdown on Islamists and other opponents, and had never hosted him in Washington.
But the economic news drove home the challenges the Egyptian president still faces. The Emirates NBD Purchasing Managers' Index showed that economic activity for the country's non-oil private sector changed direction in March, ending three months of gains by dropping to 45.9 in March from 46.7 in February. Readings below 50 indicate the economy is contracting.
Takes Time
"Although the economy's re-balancing process is proceeding as one would expect -- evident through a narrowing in the trade deficit and higher FX reserves -- it will take some time before this translates into stronger growth momentum," Tim Fox, head of research and chief economist at Emirates NBD, said in a statement.
Gains in the December through February period suggested that the government had begun to see positive results from its Nov. 3 decision to lift foreign-exchange controls and raise fuel prices, moves that sealed a $12 billion International Monetary Fund loan. Foreign investments are up and net foreign reserves rose to a six-year high of $28.5 billion at the end of March.
Yet the latest PMI reading showed the private sector was still struggling with other consequences of the reforms: a pound that lost half of its value relative to the dollar and more expensive raw materials. Consumer prices surged after the pound was floated, with annual core inflation topping 33 percent in February, although month-on-month inflation slowed.
Businesses have passed on those costs to consumers in the North African nation, who aren't comforted by officials' assurances that the hardships were expected and will pass. About half of Egypt's 92 million people live near or below the poverty line.
Bragging Rights
The meeting with Trump offered El-Sisi some domestic bragging rights, as he plans to push ahead with additional expected subsidy cuts that are key to reducing spending and realizing the 4.6 percent economic growth rate targeted in next year's fiscal budget.
But with the Trump administration looking to cut U.S. foreign assistance, analysts question whether the trip will yield more than warmer ties and a possible revival of military cooperation and training of Egyptian officers in America.
"You'd be an idiot as an Egyptian leader to think that will translate into billions more in military assistance," Crispin Hawes, managing director of the research firm Teneo Intelligence, said by phone from London. "It's more likely to be in the areas where U.S. diplomats and administration officials have positive conversations with IMF officials, for example -- things that don't cost very much."
Before it's here, it's on the Bloomberg Terminal.
LEARN MORE