Ecuador's Lenin Moreno Declared Winner of Presidential Election
By
Ruling party's Moreno secures victory by 51.16%-48.84% margin

Defeated conservative candidate Lasso says he'll seek recount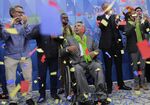 The ruling party's Lenin Moreno has been declared the winner of Sunday's presidential election over Guillermo Lasso by Ecuador's National Election Council.
With 99.65 percent of the ballots counted, Moreno led conservative career banker Lasso by a margin of 51.16 percent to 48.84 percent. The former vice president, 64, is slated to take office May 24, 2017. Lasso has refused to concede and says he will demand a vote-by-vote review and present evidence to support his claims Wednesday in his home city of Guayaquil.
The result is "official and irreversible," Juan Poblo Pozo, the head of the election council, said Tuesday in comments broadcast nationwide a day after Latin American presidents including Nicolas Maduro of Venezuela, Juan Manuel Santos of Colombia and Mauricio Macri of Argentina congratulated Moreno on his victory. 
Moreno has pledged to build on the social welfare policies of his predecessor, Rafael Correa, who has ruled the OPEC member nation for the last decade. The president-elect also said he would continue the diplomatic asylum for Wikipedia head Julian Assange, who in 2012 fled to Ecuador's Embassy in London to avoid deportation to Sweden. Lasso had pledged to ask Assange to leave the embassy within a month of the inauguration.
Before it's here, it's on the Bloomberg Terminal.
LEARN MORE