This Air Force General Wants a Cloaking Device for His Aerial Tankers
By
'Star Trek' technology wanted by general to protect his planes

Pilot shortage also a top concern for Air Mobility chief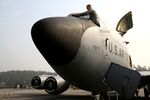 The U.S. Air Force's military transport chief is tapping Silicon Valley, the defense industry and the Pentagon's new innovation office in search of electronic cloaking technologies out of "Star Trek" to shrink the profiles of aerial tankers on enemy radar.
"I've got airplanes with big fat bodies and long wings," General Carlton Everhart, head of the Air Mobility Command, said Tuesday in an interview at Bloomberg's headquarters in New York. "I've got first-generation tankers refueling fifth-gen fighters. The enemy doesn't have to look for the fighter -- he just has to look for me."
Everhart said he's spoken with technology companies, defense contractors, the Defense Advanced Research Project Agency and military service laboratories on an idea still in its earliest stage: Retrofitting tankers as old as the 1950s-era KC-135 and as new as Boeing Co.'s KC-46 with technology to alter the plane's radar image, or waveform, so it appears to be "either in a different location in the air" or "reduced or disappears altogether: Now you see me, now you don't."
"I asked industry for a cloaking device and they all laughed -- they said you've been watching too much" science fiction. "I said, 'Listen to me -- this is what I want -- something that would be able to change the waveform."'
"I'm piggybacking off industry," Everhart said "If I put it in the military acquisition system, it would be 50 years before I get it out because of the regulations that we have."
Pilot Shortage
Based in Illinois, the Air Mobility Command moves U.S. forces and equipment around the globe, fuels planes in midair and provides evacuation of wounded or endangered troops. On other topics, Everhart said:
*The Air Force and commercial airlines have a concern in common: finding enough pilots to replace a generation nearing retirement age. Everhart is convening a conference May 18 at Joint Base Andrews in Maryland with representatives of 23 civilian airlines, top service officials and representatives of the National Guard and Air Force Reserve to discuss working together on recruiting and training.
The Air Mobility Command has a shortage of 300 pilots currently, and that threatens to grow far worse by 2021 as 1,600 more pilots become eligible to leave the service. "We are in direct competition for the same product" and "I cannot outspend the airlines," he said. "So I've got to be complementary with them."
* His command's tankers fly 40 percent of aircraft sorties over Iraq and Syria against Islamic State terrorists. Air Force statistics indicate KC-135 and KC-10 tankers performed 81,000 aerial refueling operations last year, up from 29,000 in 2014 when operations began that August.
"Everyone says this is a shooting war, but we are providing them all that gas," Everhart said. Last year, Everhart's aircraft flew the equivalent of 66 years, he said.
* He wants to equip his tankers with lasers that can destroy ground-to-air missiles instead of just using the intense beams to blind the missile's warhead as current defensive systems do.
* He said he'd use some of the added money that President Donald Trump has proposed for the fiscal 2018 defense budget to bring up to flying status eight C-5M transports stored at Dover Air Force Base in Delaware and Travis Air Force Base in California. They're languishing over a lack of maintenance after $105 million had been spent on each to refurbish.
* The Air Force program office is reviewing the current KC-46 tanker schedule with Boeing in light of a 14-month delay in delivering the first 18 aircraft by August. The latest schedule calls for delivering 20 by October 2018. The first transport is scheduled for delivery in September, and Everhart says he intends to fly it.
"What is in the art of the doable -- are we going to meet all the milestones?" Everhart said. He said he told Boeing "I'm a very, very demanding customer."
Before it's here, it's on the Bloomberg Terminal.
LEARN MORE