Brexit Won't Hurt London Bankers at Top Norway Lender, CEO Says
By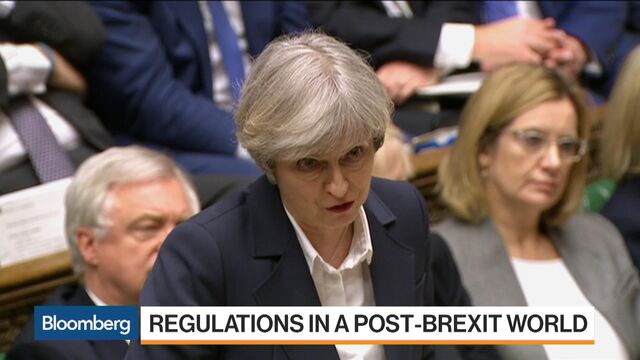 The chief executive officer of DNB ASA has no plans to adjust the London operations of Norway's biggest bank in response to Britain's decision to leave the European Union.
Rune Bjerke, DNB CEO, said Brexit may even bring with it opportunities from which the bank's London office stands to benefit.
"We have a well functioning office in London with a lot of activity," Bjerke said in a brief interview while attending a finance conference in Oslo on Tuesday. "We don't plan to decrease activity. On the contrary, it could be just as interesting to work in London going forward as it has been."
DNB has about 100 employees in the U.K. capital, Bjerke said. Some of the world's biggest banks have said they may need to cut jobs in London in response to Brexit, including Citigroup Inc. Others, such as JPMorgan Chase & Co., are looking into expanding operations in other European capitals such as Dublin.
Senior Goldman Sachs Group Inc. and Morgan Stanley executives said they're preparing to shift staff and operations from London to elsewhere in the EU as Prime Minister Theresa May moves ahead with the U.K.'s exit from the bloc.
DNB is roughly one-third owned by the government of Norway, which isn't an EU member.
The DNB CEO said the bank will "monitor closely" the development. "We think there are both challenges and opportunities," but "we haven't found any reason to take any special measures."
Before it's here, it's on the Bloomberg Terminal.
LEARN MORE